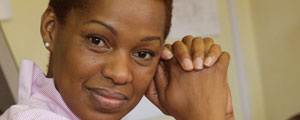 Some people are just hard work. That makes them hard to work with. Maybe you are one of those people.
Local Drummer with Thembe Khumalo
Or maybe I am. What to do? Being able to get along with other people, and more important to influence them, is one of the most critical success factors in business, and in life generally.
It's not easy to persuade people. Yet some leaders seem to achieve it with a flair that leaves the rest of us breathless.
What do they have that you and I do not have? And how can we get it? The term executive presence refers to a certain combination of qualities that makes leaders stand out, gain influence and earn trust. It is the "wow" factor that makes people want to know more about you, want to listen to what you have to say and perhaps even want to emulate you.
Business leader, Cynthia Egan says, "People just entering the workforce can be naïve about the extent that politics control decisions. Each organisation has its own personality so you need to identify what that personality is, decide if you want to exist in it, and have good mentors or relationships to help you navigate through it. " Being an island will not help you navigate politics."
The ability to engage with others is clearly a major success factor in the workplace.
Many people have confusion over the difference between being assertive (a highly desirable trait for a leader and being aggressive (not always a good idea).
Confidently stating your opinion, speaking firmly, using appropriate body language, such as keeping your hands on the table rather than your lap, speaking in low pitched, rather than high pitched tones, and making deliberate eye contact, are all elements of positive assertive behaviour.
Raising your voice, gesturing offensively, pointing fingers, using expletives and threatening language – this is aggressive and does not makes you a great leader. I remember once telling someone that I never shout (it was true in those days) and getting the response, "Yes, but you have a way of saying things that have the same effect!" Unfortunately that too was true. One of the biggest problems that women at executive level face is the ability to exert their authority and gain the respect of colleagues and subordinates -particularly in traditionally male-dominated environments.
Being able to speak up for themselves, advocate for better conditions and negotiate successfully is a skill that many women grapple to master. This is due in part to the fear of being seen as "bossy" or abrasive by exhibiting behaviour which in men is accepted as appropriate and authoritative. This sometimes makes women overcompensate by withdrawing or muting their opinions and viewpoints in favour of acceptance at the table.
Forbes.com, psychologist Simon Rego states that, "those who speak up do better at work, have more time, and have healthier relationships." Being able to strike a balance between being firm and authoritative and being mean and unkind is a skill that has to be learnt and practised over time.
Similarly one should not take firmness and authority to the level of inflexibility and arrogance if one wants to succeed with people.
Many times women underestimate their competencies considerably, while men do the opposite. Management consultant and author of Pushback – how smart women ask for – and get – what they want Selena Rezvani confirms this by saying: "Women feel a need for a certain level of prior training and experience that men do not necessarily demand in order to jump into a new role.
"There's a need for women to trust themselves more…"
But, author of The Power of Presence, Kristi Hedges says: when you say "no" to one thing, you are saying "yes" to another.
To chart a successful career (and still have any kind of life) you are going to have to get comfortable with saying "no" from time to time. If you are reluctant to ever say no, or feel that nagging pit in your stomach when you have to, then this is one area that deserves your focus. Saying no should not be seen as being rude; it is being strategic.
So, using declarative rather than tentative language, getting to the point quick, sharing your opinion fairly and understanding the high value of your contribution are all part of the package of executive presence that women in the workplace can employ for greater success.