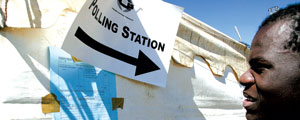 THE African Union Election Observer Mission on Zimbabwe has recommended that police officers should not be used to assist voters in elections as this might result in undue influence in the voting process.
ASSIGNMENTS EDITOR
In its final election report last week, the observer mission, which was led by former Nigerian president Olusegun Obasanjo said the July 31 harmonised polls were held in a "professional and successful" manner, but expressed concern over the involvement of police officers in the actual voting process.
"Zimbabwean authorities should reconsider the use of police officers in assisting voters as it may unduly influence the manner in which they vote," the report concluded.
"In future, authorities might wish to consider the reduction of parameters that necessitate persons to qualify as "assisted voters". The number of persons allowed to "assist" voters should also be reviewed with a view to reducing it downward from four."
In the past, the police force has been biased towards Zanu PF with Police Commissioner-General Augustine Chihuri openly declaring his allegiance to the party.
The AU election observer mission also expressed concern over the high number of assisted voters especially in Mashonaland Central Province. It also recommended that "security markings on ballot papers needed to be improved (as in some instances, observers noted the poor quality of the inscriptions) to prevent any possibility of duplication".
Although the Zimbabwean polls have been accepted by the United Nations and other international political players, the United States and the European Union have refused to accept the results of the elections.
The opposition MDC-T has also expressed similar concerns and dismissed the poll outcome as a "farce".
The party said its observers had documented cases where headmasters were assisted to vote in because they could "neither read nor write".
Zimbabwe boasts of having the highest literacy rate in Africa.