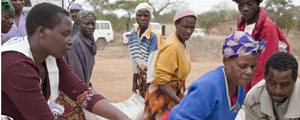 NON-GOVERNMENTAL organisations (NGOs) seeking to provide food aid to thousands of hunger-stricken villagers in Matabeleland South risk being chucked out of the country if they meddle in political affairs, a senior government official warned yesterday.
Albert Ncube
Minister of State for Provincial Affairs in Matabeleland South Abedinico Ncube said some NGOs were taking advantage of hungry villagers to peddle falsehoods about Zimbabwe's political situation.
Ncube said this during a meeting with various heads of government departments held in Gwanda.
"NGOs, your mandate is to provide food assistance to the people, politics is none of your business, leave that to us," he said.
"Don't bring your food with strings attached. If you deviate from your core business, the law provides that we chuck you out.
"It is not your mandate to teach or talk politics, don't take advantage of our hungry people and if we hear you are meddling you will go home."
Ncube said World Vision had managed to stay away from politics and stuck to its mandate of providing assistance to the people.
"We are a signatory to the United Nations conventions and it is our right to be assisted if need be. If you work well, then we will work as brothers and sisters," he said.
Ncube, who is also the MP for Gwanda South, conceded food shortages were a reality and challenged the Grain Marketing Board (GMB) to avail maize to the people.
Provincial administrator Midard Khumalo had earlier said maize supplies from the GMB were inadequate and more food supplies were required to curb starvation.
Ncube said he would not harass anyone, but called on leaders to shun party politics and work towards the development of the province.
"Zimbabwe has many political parties, but when we speak of development, let's do so with one voice," he said. "Let's not talk of the opposition, but embrace each other and work as a unit in order for us to succeed."
Related Topics