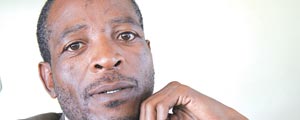 The anger with which President Robert Mugabe blasted corruption in a public tirade in which he named people, places and figures could not have been without basis — and in vain.
Landscape Tangai Chipangura
After the President's open expression of disgust over the alleged bribery involving top officials in the mining sector, Zimbabweans expected immediate arrests and prosecution.
That no such thing happened — two weeks after the President's public naming of people and the deals involved — will tend to compromise the people's confidence in the country's justice delivery system.
Should people be expected to believe that the Head of State could just stand there and, in open fury, give details, including names and figures of a corruption scheme, without proper facts?
What is more, the President's account of the graft, televised and later put into print in great detail, named witnesses, including officials no less than a Cabinet minister and the Police Commissioner-General himself!
Should we be persuaded then that the President could have been wrong — or misinformed — now that nothing has happened other than promises of investigations?
Or, is it that there are "bigger" heads that ought to roll together with the named "smaller" ones and which are now blocking the wheels of justice from turning?
In my opinion, Mugabe could not have gone public to make this exposure and in such minute detail if his information was as scant as not to warrant immediate action. We expect people to do their job and bring corrupt persons to book. The President has done his bit.
By now, we should have been reading articles such as the one below, written following the swift trial of one of China's most powerful individuals, Bo Xilai who, within five days, had been tried and sentenced to life imprisonment for bribery, embezzlement and abuse of power – so that Zimbabweans' injured confidence in the country's justice delivery system can be restored.
The article below, titled: Bo's trial underscores China's resolve for rule of law was written by Chinese journalists Li Laifang, Mou Xu and Fu Shuangqi.
The unprecedented openness and transparency in the trial of Bo Xilai have been hailed both at home and abroad, the case also underscores the party's resolve to push the rule of law in China.
Bo, former member of the Communist Party of China (CPC) Central Committee Political Bureau and former secretary of the CPC Chongqing Municipal Committee, stood trial from August 22 to 26 in east China's Shandong Province over charges of bribery, embezzlement and abuse of power.
Real-time microblogging of trial proceedings by the courtroom and fierce, orderly arguments between the defendant and prosecutors offered citizens a rare opportunity to tell right from wrong.
The evidence presented in court and during cross-examination fully demonstrated clear facts and evidence is sufficient to charge Bo with the crimes, said prosecutors.
The facts of the crimes are objective and will not be altered by the defendant's own will, they stressed.
The fact-finding is based on all the evidence presented in the case and any attempts to deny or overturn the facts are in vain, prosecutors said.
Some people said they were shocked by some details of the trial. No doubt, Bo's transparent trial showcases the CPC's persistent crackdown on corruption, as he was among one of the most senior officials to stand trial for graft in recent years.
Others include former Railway minister Liu Zhijun, who received a suspended death sentence for corruption in July, and Liu Tienan, former energy chief, who has been sacked and is under investigation.
"I was surprised that the trial of such a high-level official can be so open. This is great progress for our judicial system," said a civil servant surnamed Huang in Chongqing city government Many details revealed by the trial were thought-provoking, said Huang who preferred not giving his full name.
"Bo's case shows us that, no matter how high a profile a person has, he cannot cross the line of laws. We must always honour and respect the law when doing our job. Friendship and family should not overpower duty," he said.
Such cases involving senior officials once again highlighted the application of the rule of law for every organisation and individual in the country, including CPC members, no matter how high their posts.
All citizens are equal before the law. No one is allowed to have the special right to overstep the Constitution and laws. Any violation of the Constitution and laws should be investigated.
The open trials of officials like Bo mark great progress in China's judicial system and serve as a serious warning that law violators should not deceive themselves by supposing they can escape legal punishment through good luck.
With the detailed proceedings microblogged live, the trial was a direct and strong response to reports that have been bashing China's political and legal systems.
For the public, it was a vivid lesson for how the rule of law should be respected.