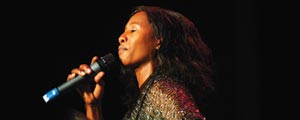 THERE is something unique about local gospel musicians — they rarely collaborate for recordings.
Entertainment Reporter
Compared to other genres, gospel music has the least collaborations since most musicians prefer going it alone or engaging secular singers for duets.
Fungisai Zvakavapano-Mashavave and Kudzai Sevenzo separately engaged Oliver Mtukudzi for their songs, while Bishop Ollah Juru collaborated with Alick Macheso.
Most gospel musicians that spoke to NewsDay cited lack of cordial working relations among themselves as the major stumbling block to gospel collaborations.
One such musician is Tatenda Mahachi, who teamed up with Prudence Katomeni-Mbofana on his song Ndibvumbamirei.
Mahachi does not regret engaging a secular musician for the song because it has become a hit.
"When I did the song, I just felt it needed a jazz touch," Mahachi said.
"I have always admired Prudence's talent and I thought she would be the best person to give the song a jazz feel. It was easy to convince her because we are related. She is my aunt and I did not hesitate to approach her.
"She listened to the song and liked it. Her voice put the icing on the cake and I am happy people have judged Ndibvumbamirei as one of the best gospel songs this year. The video of the song has also been very popular."
Ndibvumbamirei has been played on music charts on various radio stations and Mahachi says the song has opened a new chapter in his music career. He has also worked with other musicians including Dudu Manhenga and Mega Praise gospel group on other productions.
Mahachi says he is considering working with Katomeni-Mbofana on another project to solidify their professional relationship.
Katomeni-Mbofana said she had a nice time working with Mahachi.
"He has a good voice and it was interesting to test how our voices would merge on the song," she said.
"He approached me and told me he had recorded a song and needed my voice on it. I listened to the song and I got touched because I am a religious person.
"Tatenda is from a younger generation of musicians and it is nice to share experiences with someone coming with a new approach to music. We exchanged notes and I liked it. I learnt something from the new music generation."
Katomeni-Mbofana is happy about the success of the song.
"It has received good airplay and it is very popular. I am happy because we also managed to do the video of the song. I think it is a brilliant song."
The jazz diva, famed for her song BP Yangu Yakwira, says the duet was not her first time to work on a gospel project. She did the song It Is Well with Brian Sibalo when she was still a young girl.