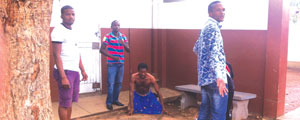 A PASTOR identified as Victor Fire caused commotion at the Kwekwe Magistrate's Court yesterday when he fell into a trance and stripped naked in the court yard bringing proceedings to a halt.
BLESSED MHLANGA
The New Creation Generation Church pastor, whose body was heavily tattooed, was at the court in solidarity with another man of cloth from the same church Nyasha Nyakutombwa, who is facing charges of assault and malicious damage to property.
The naked Victor pounced on Beauty Chamisa, the complainant in Nyakutombwa's case who was seated outside the court building.
He appeared as though he was about to sexually molest her before prison guards swooped on him to secure her release.
There was commotion at the court lasting over 30 minutes while court officials were waiting for police reinforcements to deal with the "possessed pastor". Provincial magistrate Taurai Manwere had to issue an order to have Victor arrested by the Zimbabwe Prison Services owing to the late arrival of police details.
Just before Victor's arrest, he had scaled the three-metre high security gate negotiating spikes on the top before running down the street stark naked.
Four uniformed police officers, who appeared scared of the pastor, then gave chase as Victor, who was in the company of other male church members ran in amazing speed down the streets to escape arrest.
Victor told NewsDay after his escape that he abandoned his name of birth after being converted at the church, adding he had been an armed robber.
By the time of going print Victor had not yet been arrested. Meanwhile, Nyakutombwa, who in the middle of the night of October 4, allegedly broke into Chamisa's house, while she was asleep and assaulted her with fists while he was also reportedly under a trance appeared before provincial magistrate Manwere.
The court heard that Nyakutombwa also broke Chamisa's wardrobe and a table, removed pictures on the wall of his victim's bedroom before burning clothes which he claimed were used for rituals. Manwere remanded Nyakutombwa out of custody on $100 bail to November 11.
Tinashe Mhonda appeared for the State.