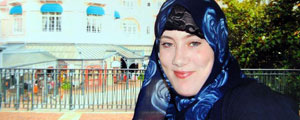 The wife of 7/7 suicide bomber Jermaine Lindsay is 'prime suspect' in attack, which has so far killed 68 people including three Brits.
Mirror Online
Two innocent children stand bewildered beside the body of a man gunned down in the Nairobi shopping mall massacre.
The youngsters, one clutching two chocolate bars, were caught up in the atrocity that has left at least 68 dead – including three Brits.
Just yards away explosions and gunfire rang out as Kenyan troops moved from shop to shop in a series of firefights with crazed terrorists and late last night tweeted they had freed most hostages.
And last night it was feared that one of the ringleaders of the bloody attack is a British mother of three.
Fanatical Samantha Lewthwaite, dubbed the White Widow, is a key member of al-Shabaab, the militant group which has claimed responsibility for the slaughter.
The British soldier's daughter, from Aylesbury, Bucks, is an Islam convert whose husband was one of the suicide bombers in the 7/7 attacks on London.
Unconfirmed sources claimed that 29-year-old Lewthwaite may even be among the masked gun gang still under siege in the Westgate mall last night.
An image on social networking websites appeared to show a balaclava-clad white woman holding a gun.
In a Twitter message terror group al-Shabaab praised the White Widow and boasted that she was with them.
On a site that has been repeatedly closed down, they wrote: "Sherafiyah lewthwaite aka samantha is a vrave (sic) lady! were happier to have her in our ranks!" In another posting they warned: "This is no more than a drill for a bigger event!"
The bloodbath has left at least 175 seriously injured, including children as young as two. It began at about 1pm on Saturday when up to 15 heavily armed fanatics stormed the plush complex in the north west of the city and opened fire as they chanted jihad slogans.
One mum who was at a kids' cookery event in the mall told how she tried to protect 30 to 40 children as the bullets flew. Kamal Kaur said: "People were hysterical. The terrorists threw two grenades at us and they shot at us. My son, who is eight, just missed being shot.
"My daughter was pulling him down and I was trying to pull the little boy next to him out of the way. Unfortunately a bullet or a grenade bounced off the wall and it hit the boy in his neck and chest area. He fell over, bleeding profusely. I was telling all the children to lie flat – just lie there and not scream or shout, just keep calm."
Within minutes of the carefully planned assault pools of blood smeared the pristine hallways and scores of bodies lay strewn across the floor.
At one burger bar, a man and woman lay in a final embrace after being killed. The shooters targeted non-Muslims by asking them the name of the Prophet Muhammad's mother before mercilessly slaying those who did not know.
The city's four hospitals struggled to cope with the number of wounded.
Terrified patients besieged casualty units as volunteers helped distraught relatives find their loved ones.
Briton Neil Saville, believed to work for global development company Dalberg in Nairobi, was among the wounded. He was undergoing surgery at the Aga Khan hospital last night after being shot in the chest.
Colleague Jason Wendle said: "Thankfully he is stable and it is not life threatening, but we're all in shock."
State House spokesman Manoah Esipisu confirmed reports of a white woman among the terror gang. A Kenyan police source said: "Samantha Lewthwaite is target number one."
As security forces prepared to launch a final assault last night in an attempt to end the bloodshed, government officials revealed the fanatics were holding at least 30 hostages.
A senior source said: "There is a strong possibility that Samantha Lewthwaite could be one of the terrorists. We have reports that at least one, possibly two women were involved in this siege."
He added: "There are strong indications Lewthwaite has the capability and influence within al-Shabaab to carry out such an atrocity."
Lewthwaite, whose Muslim fundamentalist husband Jermaine Lindsay, blew himself up on a Piccadilly Line train during the 7/7 attacks in 2005, is also wanted over a bomb plot to kill hundreds of British tourists in Mombasa. Together with her British accomplice Jermaine Grant, the pair were days away from carrying out their attack before being arrested in December 2011.
Grant from East London, is due to stand trial in Mombasa today. He was snared before their deadly plan succeeded but Lewthwaite escaped and has been on the run ever since. She recently wrote on her blog: "Fear can make you do many things."
David Cameron condemned the latest atrocity. He said: "These terrorists do not represent Islam or Muslims in Britain or anywhere else in the world."
Kenyan President Uhuru Kenyatta last night vowed to defeat the militants – after revealing that some of his close family members, including a nephew, were among the dead.