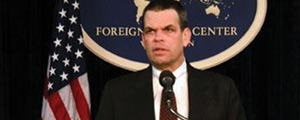 UNITED States Ambassador to Zimbabwe Bruce Wharton says his country is ready to normalise relations with Zimbabwe, but the engagement process would be determined by the way the new Zanu PF government implemented its policies.
BY OBEY MANAYITI
Addressing Mutare journalists during a visit to the eastern border city yesterday, Wharton said he had already started the re-engagement process with the new Cabinet ministers.
"Normalisation of relations is the hope of both governments. My government is looking at many ways to normalise relations with Zimbabwe," Wharton said.
"We had several high-level meetings last week with government officials. We are working to have Zimbabwe well-represented at the IMF (International Monetary Fund) meeting coming in October. We are open to engagement.
"It is important for us to see the type of policies they implement. The Foreign Affairs ministry has genuine intentions to work with us. President (Robert) Mugabe in his opening remarks of the Eighth Parliament said he wants to engage with everyone, even those countries deemed hostile. We hope to reciprocate that."
The envoy, however, said for now his government would adopt a wait-and-see attitude until it got a clear picture of government policies, especially the indigenisation law. "We will see how they will implement policies, for example, how the indigenisation policy will be pursued. We will see whether it will be implemented as outlined in the Zanu PF manifesto or they will do it in the interest of the people of Zimbabwe," he said.
Wharton also defended his country's stance on targeted sanctions against the Mugabe regime, saying the restrictive measures only targeted "just over 100 people who were making bad decisions for the country".
He, however, acknowledged that there could be unintended effects of the targeted sanctions on the people of Zimbabwe, but said it would be good for those who make decisions for the country to review their policies and how they implemented them to have the embargo relaxed.
Wharton said his country had already started reviewing the sanctions as evidenced by the removal of some officials from the sanctions list early this year.
He said his office would, however, continue making humanitarian interventions in drought-stricken areas with small-scale banana and dairy farmers in Chipinge and Rusape having already benefited.
"We anticipate that 2,5 million people in Zimbabwe will need food assistance next year and we are working on areas to improve food security," Wharton said.