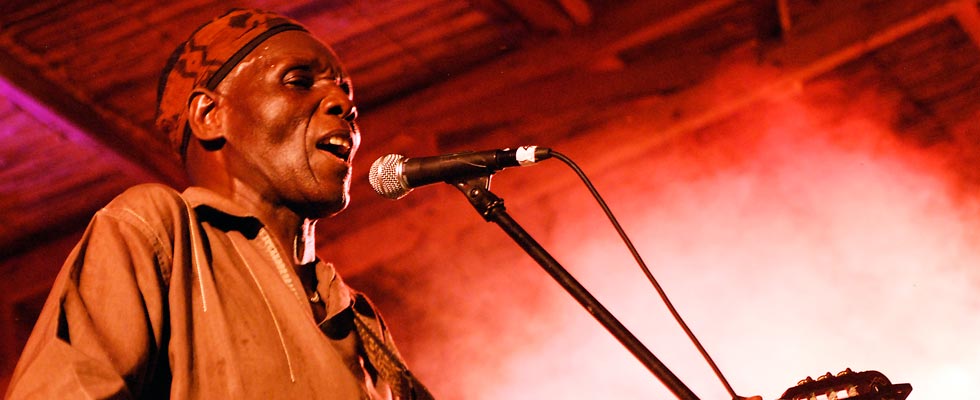 BARELY two months after returning from a two-month international tour, Oliver "Tuku" Mtukudzi is set to embark on another foreign mission. The superstar heads for the United Kingdom for two shows next month.
By Entertainment Reporter
This time, he will not be going it alone as he has roped in the exciting "Batai Munhu" combination of Sulumani Chimbetu and Jah Prayzah.
Tuku, Sulu and Jah will descend on The Royal Regency in London on October 25 before invading Maher Centre in Leicester on October 26.
The tour, which is being organised by Y2K Promotions, is dubbed The Greatest Hits Tour.
A spokesperson of Y2K Promotions said the collaborations among the artistes would make the tour interesting.
"We have a feeling that The Greatest Hits Tour might go down as a Y2K classic concert. All these artistes have one thing in common — they have collaborations among themselves," the spokesperson said.
Tuku has collaborated with Sulu and Jah Prayzah on songs Kwedu (popularly known as Kata) and Cecilia respectively.
On the other hand, Sulu and Jah Prayzah have been riding high with their duet Sean Timba (popularly known as Batai Munhu).
Tour organisers said they had themed it The Greatest Hits Tour because the artistes will play various Zimbabwean hit songs.
"The musicians will throw in a few cover versions of some of Zimbabwean greatest musicians and we can assure you that these musicians are already practicing.
"We are also glad to announce that the venues are exquisite, spacious and certainly an improvement from all the venues we have used before.
"The London venue has what we call a Mbada VIP area," the spokesperson said.
"This is limited to about 150 people and should suit those revellers who really want VIP treatment, space, sitting around a table with close ones and enjoy the concert.
"We are privileged to be working with these wonderful artistes and therefore we are working very hard to deliver these concerts and above all to share our Zimbabwean culture through music and arts with other nationals here in UK."
The concerts are expected to offer a springboard for young and upcoming artistes in the UK to showcase their talent on grand stages.
"With support from Zim Entertainment we have a supporting reggae crooner, Celscius, from Zimbabwe and other UK-based up and coming musicians to be announced later.
"Our objectives and vision does not end in sharing music and arts.
"We have far more important projects to achieve such as donations to charities and sponsoring disadvantaged and less-privileged children with talent."