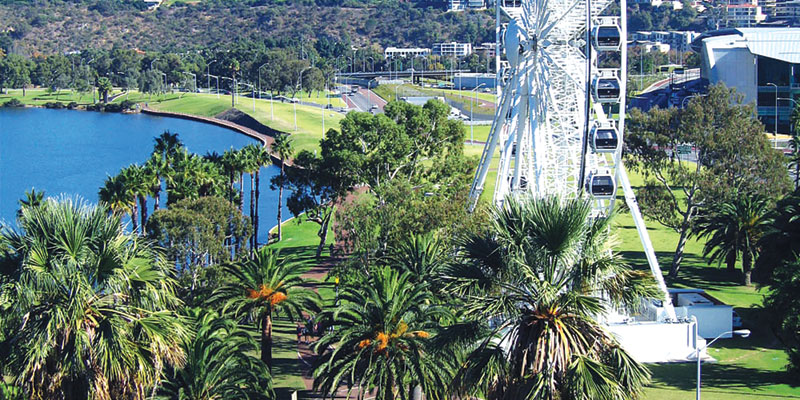 AT the heart of Australia's beautiful western coastline is Perth, a modern city of wonderful beaches and fabulous weather.
Travel with Dusty Miller
Flights to Perth land at Perth Airport in Guildford, about 17km from Perth's CBD.
Getting into the city is simple, as Perth Airport operates the Connect Shuttle service to the CBD as well as a number of suburbs. You will also find plenty of taxis, but note you may be asked to pay fares upfront – this is perfectly normal.
About Perth Travellers will enjoy Western Australia's wonderful weather and beautiful beaches. This modern city with a country heart is Australia at its best – there's nowhere better to relax after flights to Perth than with a coffee at Cappuccino Strip in the seaside setting of Fremantle.
Perth is often described as one of the world's most isolated cities, but don't let this seclusion deter you. Though Perth is closer to Singapore and Jakarta than Sydney or Melbourne, the city still retains the uniquely laidback Australian vibe which makes the country such an attractive destination.
Perth was first noticed by Dutch settlers in 1697, but the area was deemed unsuitable for agriculture. It was not until 1829 when Captain James Stirling sailed in to Perth, commenting that it was "as beautiful as anything of this kind I had ever witnessed", that a settlement was finally founded in the area which was originally known as Swan River Colony.
The Dutch had not explored the fertile banks of the Swan River, and it is here, 20km inland, Australia's fourth largest city is now located.
Today, Perth continues its evolution into one of Australia's most distinctive and welcoming cities, thanks to its friendly, multicultural population. Its position at the far west of the world's smallest continent makes it a perfect place to start an Australasian adventure, or act as a stepping stone to Asia.
Attractions Perth has plenty of things to see and do, many of which centre around the Swan River. A relaxing way to view the city is on one of the many river boat cruises; popular with tourists, the flotilla of boats wind their way along the river before dropping guests off in Fremantle in time for lunch and some shopping.
Perth is also easily navigated by bicycle, and many rental companies will hire you a bike, helmet and map for the day.
Wind along the Swan River foreshore or head up into the Kings Park and Botanic Gardens area for a picnic accompanied by great views.
Alternatively, visit Perth Mint in East Perth. Australia's oldest operating mint was established in 1899 to make gold sovereigns for the British Empire. These days the mint produces precious metal coins for collectors, and you can even create your own personalised medallion from gold or silver.
Dining and nightlife
The Swan River was the first landfall for many of the 1950s European migrant ships, and this diverse and multicultural influx has ensured diners in Perth have a wide range of global cuisines from which to choose.
The Italian influence has been substantial, evident in places such as Fremantle's Cappuccino Strip, featuring many Italian coffee shops and restaurants, and recently an unassuming family-run pizzeria in the Perth suburb of Subiaco was awarded the 'world's greatest pizza' title.
A large number of South Africans and Zimbabweans packed for Perth in the 1980s and 1990s, and as a result Anglo-African cuisines are also well represented in the city. Other ethnic cuisines widely available in Perth include Chinese, Indian, Japanese, Malaysian, Korean, Turkish and Polish.
Perth perks up considerably at weekends; the city is home to plenty of clubs and busy bars. Just outside the city centre is Northbridge, a district which features a range of nightclubs, pubs, cafés and restaurants, with an eclectic mix of cultures and cuisines. Subiaco is also a popular destination for top-end entertainment, while Fremantle, 30 minutes south of Perth, has great nightlife and is a regular destination for Perthites.
Beyond Perth Just an hour's ferry ride south from Perth is the holiday playground of Rottnest Island; a popular weekend escape which is free of private cars or taxis.
In addition to its unspoiled beauty, stunning beaches and rare flora, many people visit Rottnest hoping to catch a glimpse of a quokka. This tiny marsupial – which looks like a cross between a rat and a kangaroo – is indigenous to the island and just a handful of other Australian areas.
The colourful waters of Rottnest are also spectacular for reef snorkelling and diving, with dolphins, sea lions and whales occasionally seen from the shore.
A short drive north of Perth is the Sunset Coast. Famed for its mesmerising sunsets – which reflect off the turquoise sea to create the most incredible effect – this place has to be seen. Swim or surf during the day, alongside alfresco cafés where you can watch the world go by as the sun goes down.
Emirates flies to Perth from Dubai using a state-of-the-art fleet including the Boeing 777-300ER. Discover Emirates' luxurious inflight offerings, which include private suites in First Class, deeply reclining comfort in Business Class and plenty of room to relax in Economy Class during flights to Perth.
All classes feature ice, Emirates' on-board information, communication and entertainment system offering up to 1 500 entertainment channels, ensuring enjoyable flights to Perth.
Emirates' daily Dubai-Lusaka-Harare service is operated by a 777-300ER aircraft with 354 seats in a three-class configuration offering eight luxurious First Class suits, 42 seats in Business Class and generous space for 304 passengers in Economy Class. Fares from Harare to Perth start at around US$1,879 return.
For visa information contact the Australian Embassy at 1 Green Close, Borrowdale Harare. Tel: + 263 4 853 235 55.
Book at your favourite travel agency, at Emirates' Avondale office or online at www.emirates.com/zw [email protected] (Note new cellphone number: 0776 903 161)