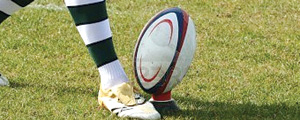 OLD Georgians Sports Club will host the semifinals of the Lion Lager National Rugby League which have been slated for September 28 after the completion of the league's round robin phase at the weekend.
DANIEL NHAKANISO
National Rugby League chairman Noddy Kanyangarara said the league's governing body had decided to settle for a single venue for the semifinals.
"The Lion Lager National Rugby League semi-finals will take place on September 28 at Old Georgians Sports Club. It should be an exciting day for local rugby as the top four teams in the league go head-to-head and we encourage the fans to come in their numbers to support their teams," he said.
The semi-finals will see Old Hararians taking on their bogey team Matabeleland Warriors while defending champions Harare Sports Club will take on Old Georgians in the other semi-final which promises to be an explosive encounter.
The four teams to feature in the semi-finals were confirmed at the weekend with Matabeleland Warriors claiming the fourth and final slot.
Warriors beat Zvishavane Bulls 21-44 at McAdams Stadium to finish in fourth position and pip their nearest Old Miltonians who lost 34-7 to Harare Sports Club.
Old Hararians on the other hand claimed top spot after beating Old Georgians 28-23 for their 13th win in 14 matches to fire warning shots to their rivals ahead of the semi-finals.
The Cyprian Mandenge-coached side, who last won the league title in 2005, will be aiming to reach the Lion Lager National Rugby League final for the first time since 2007.