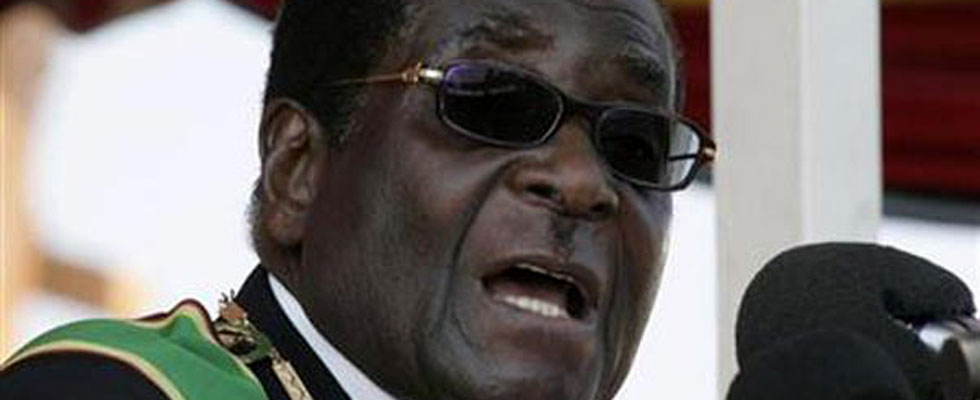 LONDON — British playwright Fraser Grace, whose play Breakfast with Mugabe is running off-Broadway in New York until October, has claimed that the Zimbabwean leader does not always get an accurate portrayal.
Report by Telegraph
Mugabe was recently elected to serve a seventh term amid allegations of massive vote rigging and this week announced a new Cabinet made up of hardliners from his Zanu PF party.
Grace's play delves into the mind of one of the world's most vilified leaders, the 89-year-old Mugabe who has been in power for 33 years.
In Grace's Breakfast with Mugabe, the President is seen a depressed patient, pursued by the spirits of a dead comrade.
Grace, who directs the Writing Drama course at Anglia Ruskin University in Cambridge, said: "When Mugabe was in the news, he was portrayed entirely as a monster.
"And my starting position was that monsters are made, not born.
"There is little doubt some of the ways he behaves are monstrous, but interestingly he had many of the same experiences as Nelson Mandela: liberation, prison, both suffered terrible humiliations and oppression under colonial rule."
However, Mandela, South Africa's first black President, is credited with uniting his country after apartheid rule.
The play has only four characters, Mugabe and his wife Grace, bodyguard Gabriel and white Zimbabwean psychiatrist Andrew Peric, all of them trying to gain the upper hand.
Peric, played by actor Ezra Barnes, first runs into the formidable Grace Mugabe, largely known as the secretary-turned-mistress who married Mugabe shortly after his first wife died and who lives a lavish lifestyle that has earned her the nickname "The First Shopper" at home.
Alternately warm and menacing, Grace, played by actress Rosalyn Coleman, goads Peric as he waits for her husband, assuring her his intentions in treating the President are pure.
"And what in Zimbabwe do you think is pure?" she scoffs.
"Do what you are told or you will not be treating your patient for long."
Mugabe, in a hauntingly accurate portrayal by Michael Rogers, sought help from the psychiatrist, yet he fights against being vulnerable to a white man, and their interactions are tense, electric and emotional.
As the psychiatrist probes Mugabe about the ghost — known as ngozi — haunting him, the President hits out angrily with his trademark sharp tongue about Peric's white ancestors robbing Africans of their land and their voice.
Peric, who has a keen understanding of Shona culture, is described by actor Barnes as "post-racial" and tries to defend himself. Like many whites whose forefathers moved to the continent, he considers himself African.
Their sessions bring up Mugabe's possible demons: his betrayal of his first wife, his abandonment by his father as a boy and the death of his own child during his 11 years of imprisonment by Ian Smith's white minority regime.
The play was first produced by the Royal Shakespeare Company in Stratford-upon-Avon and then made it to the West End and will now run in New York until October 6.