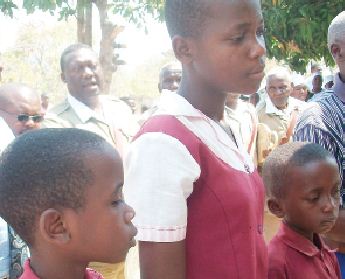 The Mucherera family's situation is a typical example of how child-headed families in both urban and rural areas are living in poverty
REPORT BY OBEY MANAYITI
______________________________________
LISTENING to 14-year-old Rumbidzai Mucherera from Zimunya narrating her obligations as head of a three-member family, one quickly gets the full picture of the agony that child-headed families in Zimbabwe go through each day.
Dumped by other relatives following the death of their parents and their grandmother in 2009, Rumbidzai, who is in Grade 7, her nine and 12-year-old siblings Clayton and Carlos stay alone at their late parents' inherited plot with minimum assistance from relatives and neighbours in Mafuke village in Chief Zimunya's area.
Rumbidzai already sees her dream of becoming a nurse or her brothers' dream of forming a law firm crumbling before their eyes as poverty and destitution grind.
Such is the harsh reality of life without parents or a guardian that the three children have to go through.
They must toil to get food on the table, to clothe themselves and to raise school fees. Being in and out of school has become the norm. This is despite common claims that children in their state of destitution in Zimbabwe have a right to basic education, health, food and other basic needs.
The Mucherera family's situation is a typical example of how child-headed families in both urban and rural areas are living in poverty. Since 2009, the three children have been staying in a wreck of a structure that could hardly pass for a house.
The roof of this pole and dagga "house" leaks and each rainy season, the three have to do with sleeping on wet ground.
Last Friday, a miracle happened to the three children.
They could not hold back tears of joy when a modest two-roomed house, a separate kitchen and toilet were handed over to them by a local non-governmental organisation, Mwana Trust.
The organisation pledged to take responsibility of the welfare of the children henceforth and promised to pay their school fees to ensure their education is uninterrupted.
Mwana Trust also pledged to provide monthly food handouts for their upkeep.
Speaking at the handover ceremony, a Mutare-based public prosecutor Mike Tembo, who is also in the Victim Friendly Committee, urged communities to assist in improving the plight of child-headed families.
"Only the extremely ignorant can say they do not know or appreciate how it feels to grow up without a parent or parents. To Mwana Trust, I say thank you for making a difference to Rumbidzai, Clayton and Carlos, and to all other children in similar circumstances," he said.
"I would like to encourage people in whichever communities to give their full support to this and similar projects," Tembo added. Director for Mwana Trust Shamiso Matabhuka-Mangongo urged the government to introduce mechanisms to help such needy people. "This is a very big challenge in the country. It is worse for children who have been abandoned by their relatives," Matabhuka-Mangongo said.
"We recommend that through the responsible ministries, the government should look after such children. There should be a special fund set aside to cover their accommodation, school fees, food and all other essentials.
"Besides government, NGOs, churches and the community should chip in to ensure such child-headed families are coping. In this case they should also try to provide guidance and counselling to them.
"Our fear is that such children become even vulnerable to child molesters and other social malcontents," she added.
Village headman Trust Ganje urged the community to look out for ways in which they could help struggling children.
Rumbidzai Marime from another non-governmental organisation Simukai, which works with children in Manicaland, said a survey should be carried out to find out how best children in such situations can be helped.
"This project has answered issues surrounding inheritance. The community was there to witness the handover and the challenge is on them to keep on monitoring the welfare of the three.
"There are many others who need help and mechanisms should be put in place to help struggling children. We are thrilled that children priorities are now on the forefront," Marime said.
Mwana Trust was formed in 2006 by members of the Guta RaJehovah Church in Mutare with the sole goal of helping orphans.
Today, the Trust is operating in Harare, Mutare and Nyanga districts, working with 31 primary schools, two secondary schools and three universities.