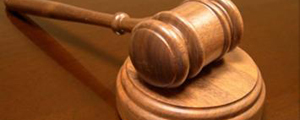 STATIONERY giant Fleximail has appealed against a 2010 High Court order compelling it to pay its 39 former employees damages in lieu of reinstatement in United States dollars.
Christopher Mahove
The workers, some of whom had worked for the company for periods ranging from 25 to 46 years, were dismissed in 2005 and successfully challenged the decision at the Labour Court which, on December 10, 2008, ordered that they be reinstated or be paid damages in lieu of reinstatement.
The company opted to pay damages equivalent to five years' salary and tendered a Zimbabwe dollar cheque to the workers through their lawyers, Mwonzora and Associates, after quantification negotiations between the two parties broke down.
Part of the letter accompanying the cheque read: " In line with the judgment of the Labour Court handed down on 10 December 2008, please find herewith our client's cheque in the sum of
$12 594-77 (Zimdollar revalued), in full settlement of the amounts due to your clients. A copy of the schedules as to how the various figures were arrived at is attached hereto. You will note from the computation that the amounts have been revalued and inflation adjusted to February, 2009."
The workers, led by Gift Bob David Samanyau, however, rejected the cheque, arguing that the company was attempting to pay them in Zimbabwe dollars, which had been removed from circulation in February 2009.
The workers then approached the High Court in November 2010, seeking a declaratory order compelling the company to pay them in US dollars at the salary scales obtaining then.
In its opposing papers, the company argued that the matter was res judicata (a matter already judged) in that the Labour Court had handed down judgment ordering reinstatement or damages in lieu thereof and that the company had duly remitted the amount that was due to the employees.
The company further argued that the employees were seeking to depart from the current position of law and asking the court to order payment of damages based on a date after the order of reinstatement was made.
However, High Court judge Justice Andrew Mutema ruled in favour of the workers, saying payment of damages in Zimbabwe dollars was equivalent to giving the employees an "ordinary stone".
The appeal, which was filed under case number CCZ 70 of 2013, has been set down for hearing at the Constitutional Court tomorrow.