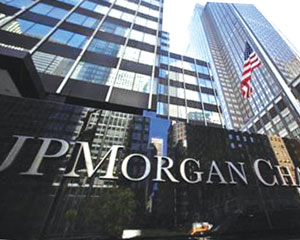 NEW YORK — JPMorgan Chase & Co is in talks with government officials to settle federal and state mortgage probes for $11 billion, two people familiar with the matter said on Wednesday.
Reuters
The sum could include $7 billion in cash and $4 billion for consumers, said the sources, who asked not to be identified because the negotiations are private.
The talks are fluid and the $11 billion amount could change, the people familiar with the matter said. The discussions include the US Department of Justice, the Securities and Exchange Commission, the US Department of Housing and Urban Development and the New York State Attorney General, the sources said.
JPMorgan is hoping to ease some of the pressure that regulators have been putting on the bank for months. The bank sidestepped the worst losses in the financial crisis, but it has looked less smart since May 2012, when it said it was losing money on derivatives bets that became known as the "London Whale" trades.
Those wagers ended up costing the bank more than $6,2 billion before taxes, and subsequent probes into how the losses happened revealed that the bank's outspoken chief executive officer, Jamie Dimon, had a dysfunctional relationship with regulators.
But the London whale trades were just one of many missteps that has drawn regulatory scrutiny. The largest US bank has disclosed more than a dozen probes globally in recent filings, including an investigation from the US Department of Justice in California that preliminarily concluded that JPMorgan violated securities laws in selling subprime mortgage bonds.
US Department of Justice lawyers from other areas of the country and state authorities have been investigating JPMorgan's liability for mortgage securities sold by two other companies it acquired during the financial crisis, Bear Stearns and Washington Mutual.
The talks to reach a global settlement on the mortgage issues heated up this week after US Department of Justice officials in California told the bank that it was preparing to file a lawsuit.
The New York prosecutor's office is participating in the talks because it is part of a working group formed by President Barack Obama in January 2012 to investigate misconduct in mortgage securities that contributed to the financial crisis.