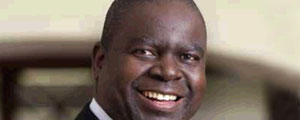 KWEKWE — Econet chief executive officer Douglas Mboweni will on Friday officially open Kwekwe's fourth premier business showcase Kwekwe Expo.
Blessed Mhlanga
Mboweni will address a business conference where he is expected to interact with over 50 companies which have so taken up space at the Mining Museum exhibition hall were the Expo will run from September 26 to 28.
The Expo, being held under the theme Building Sustainable Partnerships for Growth, has so far attracted Zimsaco, communications leaders Econet and Sable Chemicals, among other top companies.
Kwekwe Publicity Association (KPA), charged with hosting the Expo, told NewsDay the showcase continued to grow each year attracting leaders in commerce and industry.
"This has now become a premier business showcase for the Kwekwe community and each year we continue to attract top-performing companies on the bourse to take up space and network with the business world. We are now looking to invite international companies to come here," said KPA chairman Eric Musesengwa.
Kwekwe, Zimbabwe's industrial hub, is facing serious viability challenges owing to the collapse of steel-making company Ziscosteel whose status remains dire despite the $750 million takeover deal between government and Essar Africa holdings.
Sable Chemicals, which has over the years been one of the biggest employers in the Midlands town taking on board over 1 000 workers, is also facing viability challenges and has been forced to whittle down its workforce to less than 500.
Musesengwa said Kwekwe Expo provided the link to sustainable partnerships with government, international investors and other market players so that the mining town can be saved.
"We need to stand as a community and bring big business down here through this Expo and unless we do that our town risks turning into a flea market and bed of unemployment," he said.
Econet, according to KPA, embodies the spirit of sustainable growth and Mboweni would be expected to share the secrets of the company's strength even despite the economic challenges faced by local business.