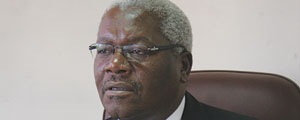 THE MDC-T yesterday filed an urgent application with the Electoral Court seeking an interdict to block outgoing Local Government minister Ignatius Chombo from interfering in the election of mayors. REPORT BY STAFF REPORTER
The court application filed by MDC-T lawyers, Mwonzora and Associates Legal Practitioners follows Chombo's directive compelling newly-elected councillors to pick a mayor from among themselves.
However, the MDC-T argues that Section 49 of the Urban Councils Act allows for an outsider to be elected as mayor. The party has already recommended non-elected members Obert Gutu and Mandla Nyathi as its preferred candidates for Harare and Bulawayo respectively.
"Section 49 of the Urban Councils Act provides for qualification of mayors. It clearly does not disqualify anybody who is not an elected councillor, to stand as mayor," MDC-T secretary for local government Blessing Chebundo said in an affidavit supporting the urgent application.
"Section 103 of the Urban Councils Act as amended by Section 22 of the Local Government Laws Amendment Act 1 of 2008 clearly stipulates that mayors can be elected from councillors or other persons. It therefore allows for the election of mayors from persons outside councils."
Chebundo added: "The qualifications for election of a person as mayor are provided for in section 49 of the Act. Under this section, for one to be a mayor he/she does not have to be a councillor first. Section 49(2) refers to the executive mayor contemplated in section 277 (2) of the constitution and not to a non-executive mayor."
Local Government secretary Killian Mupingo last month wrote to all local authorities directing Provincial Administrators that only elected councillors were eligible to contest the mayoral post.
Part of the letter dated August 21 reads: "It is underscored that in terms of Section 274 (2) as read with section 265 (2) and section 275 of the Constitution of Zimbabwe Amendment (no.20) Act 2013, mayors and chairpersons shall be elected from amongst elected councillors only."