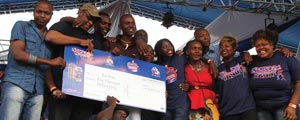 IT is that time of the year again when aspiring musicians lock horns for the national contest that is the Chibuku Road to Fame talent search competition.
Silence Charumbira
The Delta Beverages-sponsored programme will be held at the Glamis Arena today with 10 groups from across the country vying for the coveted $5 000 at stake for the winner.
Sungura outfit Hambakwe Stars represents Mashonaland East, from Manicaland comes Real Spears, Matabeleland South will be represented by Motor Super Sounds, while Mashonaland West sent in Human Life.
Sounds of the Universe represent Bulawayo, from Masvingo comes CY The Legends Band, Soul Panorama represents Midlands, The Way comes from Mashonaland Central, Harare will be represented by Were Band, while Matabeleland North sent African Traditional Vibes.
The first prize is worth a staggering $5 000 cash and a recording contract sponsored by Delta Beverages.
The second and third prizes will fetch $4 000 and $3 000 respectively.
Although it is always a tough contest, all eyes will be on the Harare finalists Were Band, who have already won Imagine Zim National contest as well as the International Imagine Festival in Norway.
To entertain revellers at the event will be top artistes like Alick Macheso, Winky D, Jah Prayzah, Sulumani Chimbetu and previous winners Romeo Gasa Terry and the Bliss.