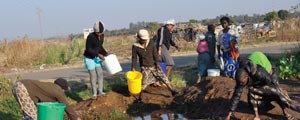 The current water crisis bedevilling Harare has resulted in some Chitungwiza residents queueing for the scarce commodity in the middle of the night.
MOSES MATENGA
This comes at a time when engineers have been hired from China to rehabilitate the capital's water infrastructure.
But Harare city water engineer Christopher Zvobgo yesterday said even the recent hiring of the Chinese experts was not the solution to the city's perennial water woes as it would only go as far as plugging leakages.
In an interview with NewsDay soon after the arrival of another batch of 15 Chinese engineers, Zvobgo said the rehabilitation of the water pipes would only reduce leakages and slightly improve supplies from the current 300 to 600 megalitres a day against the city's normal daily requirement of 1 400 megalitres.
"We will not meet the required amount, but we will be able to supply about 600 megalitres a day and eliminate some losses (due to leakages)," Zvobgo said.
He said the 15 engineers, who arrived from China yesterday, were part of the 46 engineers from that country seconded to Harare over the next four years to help with the rehabilitation of Morton Jaffray, Letombo, Firle, Alex Park, Crowborough and Prince Edward waterworks.
The work is part of the $144 million loan facility from Exim Bank. "The main reason for their coming-in is for the rehabilitation of water storage reticulation in Harare. The main work is at Morton Jaffray pumps so that we bring back the capacity to 614 megalitres a day and once they are through, there will be 50% efficiency in the water supplies," Zvobgo said.
Harare residents have endured erratic water supplies for several years due to obsolete equipment and limited pumping capacity at Morton Jaffray and Prince Edward waterworks. The shortages have also affected surrounding towns such as Norton and Chitungwiza which rely on water supplies from the capital.
The proposed construction of Kunzvi Dam east of Harare, which has been on the cards for over two decades, has been touted as the lasting solution to the city's water crisis.
Chitungwiza residents have expressed fears that the water shortages might trigger an outbreak of diseases reminiscent of the 2008 cholera outbreak that claimed 4 000 lives countrywide.
In a statement yesterday, the Chitungwiza Residents' Trust said: "The water crisis in Chitungwiza has risen to alarming proportions. In St Mary's, Zengeza and Seke districts, residents have now resorted to midnight vigils in long queues at the few school water taps to wait for the precious liquid which has become a very scarce commodity. And for some strange reason, these school taps only spit the precious liquid around midnight. From the look of things, a health disaster is looming in Chitungwiza if the water situation does not improve immediately."