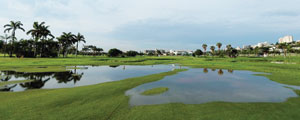 THE Zimbabwe Junior Golf Association will host the inaugural Three Nations Golf Challenge 2013 from August 20-24 at Elephant Hills Hotel and Golf Resort in Victoria Falls.
REPORT BY SPORTS REPORTER
Zimbabwe will battle it out with Kenya and Namibia in the tournament, which is meant to showcase the best junior golf talent of the three participating nations.
The festivities will begin with the flag raising ceremony on August 20 after a morning of the official practice round.
Guests will have an opportunity to mingle with the players during the cruise on the Zambezi, courtesy of Wild Horizons, a regional touring company. The actual tournament will kick off on August 21 and run for three days before the prize giving and closing ceremony.
The Zimbabwe team consists of Travis Smith, Stuart Krog, Jack Allard, Kiren Vincent, Mbongeni Maphosa, Shahid Mahmed, and Rasheed Mohammed, who is a non-travelling reserve. Maphosa is the team captain, while the team manager and team coach are Kyle Basson and Roger Baylis.
"I am very grateful for the support from our sponsors, volunteers and R & A who have helped make this event possible. The Elephant Hills Hotel, Wild Horizons, Titleist and Kenya Airways have been greatly supportive towards this tournament and we are most grateful," said Brian Maphosa, the Zimbabwe Junior Golf Association president.
"We are excited and look forward to some challenging golf. We look forward to the tournament growing further to being the premier junior tournament on the continent."
The Three Nations Golf Challenge is a junior golf tournament that is intended to give an opportunity for the three nations to develop their top talent for more competitive golf at international level.
There is very little else going on outside South Africa on this continent that gives junior golfers the top competition they need to stay at the top of their game.
While Zimbabwe has been competing in the Tri- Nations tournament against Zambia and Malawi, Zimbabwe has now categorised this as a developmental tournament, and what's been lacking is a more competitive golf for our top players that they can use for preparing what they encounter at international tournaments.
This will be an annual event which will be hosted on a rotational basis between the three countries.