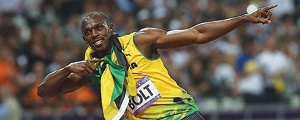 Zimbabwean sprinter and former junior African champion Gabriel Mvumvure is at the International Association of Athletics Federation (IAAF) World Championships in Moscow, Russia where he will be competing in the 100 metres event against Jamaican sensation Usain Bolt.
The competition starts tomorrow. Mvumvure is accompanied at the same event by marathoner Cephas Pasipamire, but high hopes are on Mvumvure (GM) who spoke to Alpha Media Holdings' Group Sports Editor Editor Simba Rushwaya (SR) from his base in Moscow.
SR – How does it feel to represent Zimbabwe at the highest level, nothwithstanding the fact there is just the two of you there?
GM – It is always an honor and such an experience for me to be able to represent Zimbabwe. The media in most countries portray Zimbabwe in a negative way and competitions like this give athletes like us an opportunity to give people a different perspective. Although its just two of us I feel like Sports Commissions and Federations in Zimbabwe can do a better job in developing the talent especially with the amount of talented athletes we have in the country. We really do have a lot potential as a country to dominate the sports world and not just in athletics.
SR -The nation is particularly relying on you after an impressive 100 metres in the States, does that put pressure on you? What has been your condition coming into these championships and what do you promise people who will be watching you back home?
GM : I don't feel pressured at all besides they say, "great preparation makes pressure manageable". I feel great getting into this competition. I've trained really hard and also got enough time to relax in order to get my body feeling great. I spent three weeks in Italy just focusing on getting better so I have a lot to prove and I have high expectations. I promise all the people in Zimbabwe my best performance of the season. I'll do whatever is in my power to get on the podium and if God is willing it will happen. I just want to thank everyone that will tune in and all those that have supported me thus far.
SR: Are you confident of making it to the finals of your event taking into consideration the high competition with the Bolts of this world in your event?
GM: In a competition this big anything can happen, for instance, Bolt false started at the last World Championships. I'm just focusing on what I have to do to make it to the final since I can't control what everybody does. If it's my time then everything will work to my favor and if it's not I'll still hold my head high.
SR: Briefly tell me your background, marital status and some of the commitments outside athletics.
GM : My background is as follows: I am the two-time African Junior champion in the 100m and 200m (2007). I got an athletic scholarship to LSU (Louisiana State University) USA in January 2008. I graduated in December 2011 with a double major in International Relations and Affairs and Political Science. I was also a minor in History. I am not married not getting married anytime soon, as far as I know. Outside athletics I always play football, I really love it and used to play a lot in Zimbabwe. I listen to a lot of music and I dance a lot. I don't club that much but I just like being in a good mood every time.
SR: How have been your preparations and what do you is the future of athletics in Zimbabwe with such low number of participants at the highest level?
GM : My preparations have been great and I am not the regular kind of athlete. I focus on a lot of exercises for my mind body and soul. I do a lot of affirmations and visualization outside of practice. I have visualized all my races including the final. I have affirmed everything I want as though I have already achieved everything. That gives me a mental edge against all my competitors and I always keep my Faith in God. I honestly feel like Zimbabwe can be the créme de la créme of athletics if only the talent identification and development process is carried out in a more competent way. I grew up around a lot of talented people that I was not the fastest or strongest. In Zimbabwe all talent goes to waste because athletes never really find enough support to get them to that next level. They don't even have electronic timing in all the meets that are ran in Zimbabwe and that makes it hard for athletes to qualify. If you take a closer look, all the athletes that qualify for any big competition like World Championships do it outside the country. These are just some and a few of the burdens athletes face that are hindering Zimbabwe to be at the top when it comes to athletics.
SR: Are you planning to come home after the championships? Which medal are you eyeing there? Do you think you are going to beat Bolt to the gold?
GM : Yes, I am planning on coming home after my season is done. After the championships I might have 2 or 3 meets to go to then come home, hopefully I will have some silverware to show. I haven't been in Zimbabwe in 5 1/2 years and really miss it. I always eye for Gold. You have to aim high so that if you miss you won't be that far. I never go to a competition thinking of second so I believe I can beat Bolt. No man is invincible; everybody is beatable including Bolt so i'm praying that I come out victorious. Bolt is not really the one on my mind because if i get to the final and want to win the gold medal I have to beat everyone in my race including Bolt.