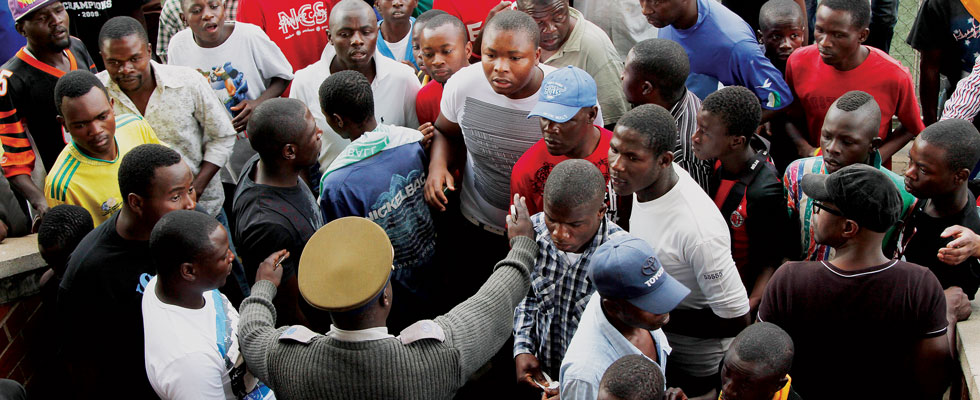 THE highly-anticipated Zimbabwe-Zambia African Nations Championship (Chan) final round first leg qualifier set for Rufaro Stadium in the capital yesterday failed to take off after match referees from Cameroon failed to pitch up and the match was rescheduled to Sunday at the same venue.
REPORT BY KEVIN MAPASURE
After exploring a number of avenues to avert the situation, the three parties, Zifa, the Zambia Football Association (FAZ) and the match commissioner Ian Mcleod from South Africa agreed to postpone the match to Sunday, a decision which was endorsed by the Confederation of African Football (Caf).
Warriors coach Ian Gorowa requested that the players regroup tomorrow, after they were given a break yesterday, to prepare for Sunday's clash.
More than 5 000 fans had already paid their way into the stadium to watch the match, but they will have to wait for another week.
About 400 fans had travelled to Harare from Zambia and efforts were being made for them to travel back home.
Zifa chief executive officer Jonathan Mashingaidze said they had done everything possible for the match to go ahead as per schedule yesterday, but after the referees failed to pitch up, they were left with no option, but to postpone the fixture.
The Cameroonian referees were originally expected to arrive in Harare on Saturday morning, but according to Mashingaidze, the quartet of match referee, Juenkou Wandji, first assistant, Noupue Nguegoue, second assistant, Lambi J. Fuanta and reserve referee Nde Christopher Ade missed their flight from Douala to Nairobi.
After missing that flight, they could only have arrived in Harare at 3pm yesterday, but they did not travel leading to the cancellation of the match which had been rescheduled to kick off at 4:30pm.
Caf advised the referees to return home yesterday and the continental body will advise Zifa on appointments for Sunday's match.
Zifa had earlier expressed displeasure at the appointment of Cameroonian referees arguing that it would be too expensive for Zimbabwe to fly them, but Caf stood their ground.
"The referees missed their flight from Doula and thus missed the connecting flight from Nairobi. We tried out different possible solutions since Saturday when we had learnt of the situation," Mashingaidze said.
"But we could not avert postponement in the end. We had proposed that we get referees from South Africa and the South African Football Association (Safa) had agreed to bring in four referees, but Caf said no to that because we already had a match commissioner from the same country."
Victor Hlungwani, Sandile Dilikane, Zakhele Siwela and Daniel Bennet had been put on standby to save the situation.
Mashingaidze said he checked with the airline in the afternoon and was told that the referees were not on that flight.
A proposal to have the match played today was rejected by Zambian officials led by FAZ president Kalusha Bwalya on the grounds that Chipolopolo needed to travel to France for an international friendly match against Senegal.
Another proposal to have local referees officiating was also shot down and in the end it was agreed that the best option would be to reschedule the match to Sunday.
The return leg will not be moved from the scheduled August 24.