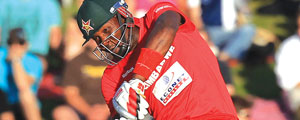 NATIONAL cricket team coach Andy Waller is banking on his senior batsmen to regain form if Zimbabwe is to make an impression in the Pakistan tour which gets underway with two T-20s tomorrow and Saturday at Harare Sports Club.
REPORT BY DANIEL NHAKANISO
Waller said the team's senior batsmen Hamilton Masakadza and Brendan Taylor showed encouraging signs at training and is hoping the two can translate the form to game situation as they seek better fortunes against Pakistan after a massacre at the hands of India recently.
Both struggled against India with Taylor scoring three ducks in the five match One-Day International series, while Masakadza scored a couple of 30s, but failed to convert half centuries.
Waller said the team's most senior batsmen, Masakadza and Taylor had shown good form during the team's inter-squad matches and Twenty20 cricket provided them a chance to get themselves among the run scorers.
"Since we got back into camp the guys have been playing some good cricket and it looks like the guys are nice and positive and we look forward to the games on Friday.
"T20 we know is a format where you can have a good day or a bad. If some of the guys come good like what they have done in the last few days it would be good for us.
"Hamilton (Masakadza) got a hundred and BT (Brendon Taylor) also got a hundred with the other guys getting 40s and 50s. If they come out with that flair we can surprise a few sides and there's no reason why we can't do it in the one-dayers as well.
"If we don't it's not going to be because of lack of trying, there are determined to give it a full go and we will see what happens," said Waller.
While Waller was hopeful that his players would raise their game, he was also realistic about his team's chances and admitted that they faced an uphill task against Pakistan.
"Look I think we have got to be realistic, Pakistan a very good side. I would be nice to win one or two games but it's not going to be easy, especially with the preparations we have put in.
"We've had less than a week in camp now but it not going to be easy to beat a side like that but we will certainly go in there with the intention of winning but it's going to be tough.
Pakistan begins its two-match Twenty-20 series with an aim to reduce the gap with number-one ranked Sri Lanka on the Reliance ICC T20 Rankings Table.
Currently ranked second with 124 ratings points, Pakistan can gain one ratings point if it wins both the matches, to finish with 125 ratings points and thereby reduce the gap with number-one ranked Sri Lanka (128) to three.
Zimbabwe too has an opportunity to move up, and will jump one place to 11th if it wins both matches in the series.
Zimbabwe, who are expected to name their 15-man squad today is currently ranked 12th with 48 ratings points, and can gain up to 16 ratings points to move into 11th with 64 ratings points.