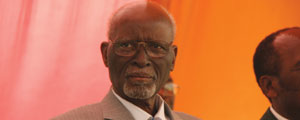 ZANU PF is yet to start the process of replacing the late Vice-President John Nkomo who died in January this year, an exercise which many believe will widen rifts within the party.
Report by Staff Reporter
After winning majority votes in the recent national polls, President Robert Mugabe will be expected to appoint two vice-presidents from his Zanu PF party.
Party spokesperson Rugare Gumbo yesterday told our sister paper Southern Eye that the party would be making an announcement when the process starts.
"You will be advised of the process in due course," he said.
Zanu PF secretary for administration Didymus Mutasa, however, said the issue would be dealt with at the party's next congress.
"Such matters are dealt with at the party's congress, so that is when it will be addressed," he said.
The next party's congress will be held next year.
Asked if Mugabe would continue with one vice-president until the next Zanu PF congress, Mutasa said he had no idea.
"I do not know," he said. "The President might say the matter be dealt with sooner, the decision lies with him."
Nkomo died at a Harare hospital in January after a long battle with cancer.
A number of senior Zanu PF leaders have been tipped for the post of vice-presidency with party chairman Simon Khaya-Moyo being the frontrunner in terms of seniority.
Politburo member Kembo Mohadi has also been tipped for the post although some say he is eyeing the national chairperson's seat, while outgoing Mines and Mining Development minister, Obert Mpofu is reportedly also fancied for the post.
One of Zipra's former senior commanders and Zanu PF politburo member Ambrose Mutinhiri also indicated that he was interested in a higher post.