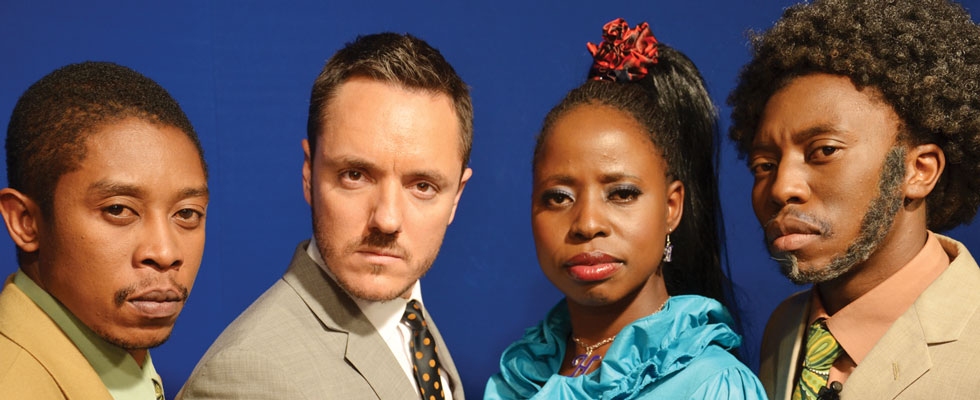 THE third annual South African Comics Choice Awards will feature a local production Zambezi News on Saturday in Johannesburg, South Africa.
Report by Tinashe Sibanda
The show is expected to be the largest gathering of comedians in that country.
News team comprising Mandape Mandape (Tongai Makawa aka Outspoken) and Jerome Weathers (Sam Monroe aka Comrade Fatso) are billed to be the main international act.
Created by two of Zimbabwe's pioneering creative minds, Comrade Fatso and Outspoken, Zambezi News hilariously deals with everything from race, sex, politics, sport, land reform and to hip hop.
"Magamba Network and the cast of Zambezi News are very excited about performing live at this show.
"This performance will put Zambezi News on the world comedy map. This is also set to be the first Zimbabwean or international act to perform at the Comics Choice Awards, sharing the stage with South African comedy legends," said Zambezi News Producer, Mutheu Maitha-Bomba.
Other selected comedians nominated for the awards include Trevor Noah, Loyiso Gola, John Vlismas, Tumi Morake, Barry Hilton, Kagiso Lediga and many more.
She said Zambezi News had received a great reception from audiences in Zimbabwe and the Diaspora as it focused on issues faced by ordinary people.
"In 2012, Magamba Network distributed 12 100 DVDs of Season 1 of Zambezi News across Zimbabwe and in June 2013 distributed 5 000 of its Elections Special episode from the brand new Season 2. All the DVDs were distributed and Magamba constantly gets requests for more and the launch of the Elections Special episode was very well attended with a full capacity crowd," Bomba said.
She said Season 2 was currently in post-production and would be released by the end of August, 2013.
Bomba added that Magamba would also be marketing Season 2 primarily for broadcasting.
She said Season 1 was broadcast on ATV and it is now currently being broadcast on 1st TV and Magamba was also planning on engaging other satellite TV stations once Season 2 was complete.
"Local comedy has a lot of potential and there are some very talented young comedians breaking into the industry. There is certainly a need and space for female comedians to break into the industry," Bomba added.