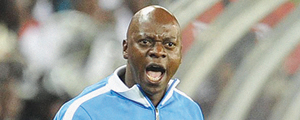 THE Warriors went back into camp last night as they step up preparations for their first leg African Nations Championship (Chan) qualifier against Zambia at Rufaro on Sunday.
REPORT BY SPORTS CORRESPONDENT
The match had to be rescheduled by Caf after Cameroon referees whom they had appointed to officiate last Sunday failed to arrive after missing their flight from Nairobi to Harare.
However, the Cameroon match officials are now in Harare.
Ian Gorowa's men are expected to start training this morning as they have been playing for their clubs in league matches on Wednesday and yesterday.
Meanwhile, Zambia played out a 1-1 draw in an international friendly match against Senegal at Stade Municipal in the French town of Saint-Leu-le-Foret on Wednesday with Jacob Mulenga scoring for Chipolopolo before Senegal equalised through Dame Ndoye.
Both teams used the friendly match to prepare for World Cup qualifiers next month. Zambia play Ghana in Kumasi on September 6 while Senegal will play Uganda a day later in Dakar.
But Zambia coach Hervé Renard also fielded new faces who are expected to face the Warriors on Sunday.
Renard gave starts to Kondwani Mtonga, Bronson Chama and Christopher Munthali, all of whom play in the MTN FAZ Super League.
Later in the match Bruce Musakanya and Evans Kangwa were introduced replacing Rainford Kalaba and Emmanuel Mayuka respectively.
Meanwhile, the Football Association of Zambia (FAZ) has slashed gate charges for the 2014 Chan second round, return leg qualifier against Zimbabwe to be played on August 24 at the Levy Mwanawasa Stadium in Ndola.
FAZ spokesperson Erick Mwanza said the move was aimed at encouraging fans to turn up in large numbers for the match that will see Zambia fighting to earn qualification for the prestigious continental tournament for locally-based players.
He said tickets would fetch as low as K20 for the northern and southern decks; with those for the east upper deck to cost K20 from the usual K50, while the east lower deck will cost K50 from the normal K100.
Mwanza said the prices for the VIP remained at K500 with the western decks going at K150 and K100; adding that fans were encouraged to turn up in numbers as has been the case in the past to cheer the team to victory.
"We realise that our team likes playing before a noisy crowd and this is why we have decided to reduce these gate tickets to ensure that the stadium is filled to capacity when the Chipolopolo play Zimbabwe in the Chan return leg," Mwanza said.
Mwanza said the Chan squad that remained behind would leave for Harare on Friday and will link up with coach, Renard and the nine players that went to France for yesterday's international friendly match.
The Zambian Chan squad resumed training at the Independence Stadium in Lusaka on Wednesday with assistant coach Masautso Mwale including three players to the team.
The trio, Percy Biyoti, Gift Wamundila and Felony Stonia from Green Buffaloes and Geoffrey Silavwe from Tigers, were part of yesterday morning training session.
Mwale said in an interview that the team was injury free and was focused on winning the weekend match and expressed happiness with the new call-ups in the team.
In another development, Chipolopolo Soccer Fans Association chairperson Yotam Mwanza has commended government for availing six buses to ferry fans to Harare to cheer the team at a cost of just $10.