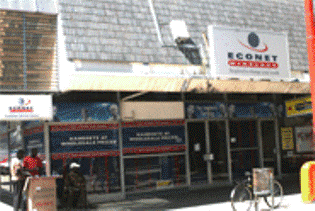 ZIMBABWE'S largest mobile phone operator, Econet Wireless has launched one of Africa's first Long-Term Evolution (LTE) networks, ahead of the United Nations World Tourism Organisation (UNWTO) general assembly set for later this week.
Report by Business Reporter
The LTE will be officially launched in the resort town of Victoria Falls, where Zimbabwe and Zambia will co-host the 20th session of the UNWTO general assembly from August 24 to August 29 in Victoria Falls and Livingstone respectively.
The new technology, which is still not available in most European and Asian countries, is also known as "4G", and according to the mobile phone operator, it allows the fastest mobile Internet speeds possible on a cell phone.
Speaking at a media briefing yesterday in Harare, Econet Wireless chief executive officer Douglas Mboweni said the hosting of the tourism event was an opportunity to show the world that Zimbabwe "is not dead and buried; we are very much alive, and we have kept pace with developments in the world".
Mboweni said that his group of companies, which include sister companies Liquid Telecom and ZOL, have invested heavily in ensuring that telecommunications services in Victoria Falls are world class.
Meanwhile, Mboweni has said that work is already in progress to launch 4G in the major cities, including Harare.
"The business community in Zimbabwe uses our network almost exclusively, and we have a duty to ensure that they have the most advanced services available," said Mboweni.
Econet chief commercial and customer service officer Stanley Henning said Zimbabwe was the seventh country in Africa to launch 4G LTE network.
Henning said 4G LTE network would be accessible through dongles which will be sold at a cost and the cost of data will remain the same as the current 3G cost.
"Connection initially is available on 4G LTE dongles and Econet is working on making it available on 4G compatible mobile phones," Henning said.
He said for the UNWTO general assembly, 4G LTE dongles would be given for free for the first week and during the second week, they would be sold.
He, however, said dongles would be sold at all Econet shops countrywide, but currently would be available at the three airports in Zimbabwe.
In preparation for the tourism indaba, Liquid Telecom and CEC Liquid Telecom Zambia have laid new fibre to connect all major hotels and international airports in Victoria Falls, Lusaka and Livingstone to its existing fibre network. In addition, Liquid has installed wi-fi throughout the hotels and airports.
Liquid Telecom said it will provide a dedicated 100Mbps fibre link to the Conference Centre, including the Business Centre.
This link is through Optical Ground Wire fibre link from Bulawayo, through Hwange to Victoria Falls. The primary link which runs over Dense Wavelength Division Multiplexing has 10Gbps capacity and the protection is provisioned from Victoria Falls (Zimbabwe), Livingstone (Zambia) and Lusaka (Zambia), with capacity of 300Mbps (2 x STM1s).
The Liquid Telecom Group has built Africa's largest single fibre network which runs from the north of Uganda to Cape Town on a single thread.