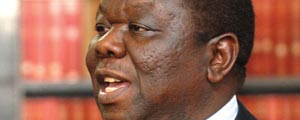 PRIME Minister Morgan Tsvangirai's electoral petition challenging the July 31 presidential poll result will be heard on Saturday at the Constitutional Court (ConCourt).
FELUNA NLEYA/EVERSON MUSHAVA
The date was fixed yesterday following a pre-trial conference attended by the lawyers for President Robert Mugabe, Tsvangirai, Attorney-General (AG) and the Zimbabwe Electoral Commission (Zec).
Tsvangirai was represented by Advocate Lewis Uriri, Alec Muchadehama and Chris Mhike, while Advocate Frederick Gijima represented Mugabe at the pre-trial conference held before Chief Justice Godfrey Chidyausiku.
Advocate Farai Mutangamira represented the AG and Zec was represented by Tawanda Kanengoni. The lawyers were advised to file their papers with the ConCourt by the end of day on Friday.
Tsvangirai has challenged Mugabe's recent electoral victory and is seeking the nullification of the presidential poll result alleging vote fraud. He wants a rerun to be held within 60 days from the date of judgment.
Mugabe's lawyer said the hearing was set to determine whether the case should proceed as a trial or as an application and whether the AG should also be cited as a respondent in the matter.
"There are two schools of thought. The applicants believe that it should proceed by way of trial, they want to lead oral evidence and we believe it should not be heard by way of a trial, but by way of an application, and those arguments are going to be heard as a preliminary point," Gijima said.
According to the new Constitution, the ConCourt should finalise the application within two weeks of the petition being filed. Mugabe's swearing-in for another five-year term will be put on hold until the matter has been finalised.
Meanwhile, High Court judge Justice Chinembiri Bhunu yesterday reserved judgment in the matter in which Tsvangirai is seeking access to electoral material of the July 31 elections in order to adduce evidence for his presidential poll petition.
Gijima argued that Tsvangirai had approached the wrong court as the ConCourt had the jurisdiction over poll disputes and accused the MDC-T leader of approaching the courts with dirty hands after saying he lacked confidence in the Judiciary.
Mutamangira, representing the AG, said there was no urgency in the matter as Tsvangirai took five days after announcement of the results before he launched his appeal.
But Tsvangirai's lawyers denied that they had approached the wrong court, adding their client could not be denied justice due to his personal opinion of the Judiciary.