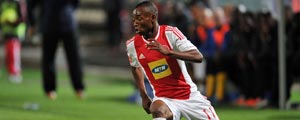 SOUTH African Premiership side SuperSport United has joined the race for the signature of Zimbabwe international Khama Billiat after the player was not registered for this weekend's opening fixture.
REPORT BY SPORTS CORRESPONDENT
Already cash-rich giants Mamelodi Sundowns and Orlando Pirates have declared their interest in the Ajax Cape Town forward.
The player's representative Edzai Kasinauyo said Billiat's trials in Russia with Lokomotiv Moscow fell through and Ajax Cape Town would now decide on the way forward.
"As you are aware, Billiat still has a contract with Ajax Cape Town. He did not succeed during trials in Russia and his club will now decide on the way forward. There are a number of clubs in South Africa interested in him," Kasinauyo said.
According to Soccer-Laduma, Ajax club director Ari Efstathiou confirmed that SuperSport United, who are also home to another Zimbabwean Simba Sithole, are ready to put in their bid for one of the most sought after player in South Africa.
"Yes, SuperSport have spoken to me about Billiat, but that's all I can say for now," Ajax's Efstathiou said.
Ajax insist they have not yet received any official offer, but such is the likelihood of him leaving that coach Muhsin Ertugral has decided against registering the player in fear of wasting one of the five allotted foreign quotas.
"I had a close chat with him this week (during) which I put it very clearly that I want him to stay," Ertugral told KickOff yesterday.
"We all want him to stay at Ajax. The ball is at his feet at the moment. We have passed the ball to him nicely, now he needs to take a decision.
"A player whose mind is not here won't be 100% for you. For this reason I made the decision to leave him out this weekend because if he does move on, we can't have him registered and take up a foreigner space, so that responsibility we have taken."
Ertugral added: "I've also put a lot of pressure on management to make him stay. He is a fantastic and valuable player, but we'll see . . . there are also other elements in South African football which we cannot get over."
Sundowns were recently seen as the frontrunners to land the Zimbabwean's signature, with Eleazar Rodgers and Clayton Daniels thrown into the mix in a potential swap deal.
However, Pirates are reported to be back in the running for Billiat's signature.
Billiat was invited for trials with Russian top division side Lokomotiv Moscow a month ago and his handlers say the deal has fallen through, raising hopes he might stay on in South Africa.