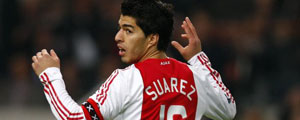 LIVERPOOL — After weeks of angling for a move, Luis Suarez is ready to stay at Liverpool, according to a report in Uruguay.
Sapa
Uruguyan journalist Martin Charquero told GolTV Latin America that Suarez had confirmed to him he would be staying.
"Luis Suarez confirms to me he will not leave Liverpool. The support of the fans has influenced his decision," Charquero tweeted in Spanish. "Suarez see it as likely that he'll sign a renewal (extension) to the contract that binds him to Liverpool."
The striker had said several times this summer that he saw his future away from Liverpool, arguing that the club had promised him he could leave if they did not qualify for the Champions League.
The Premier League club, however, has disputed that statement and also another from Suarez that he could talk to other clubs if anyone offered more than £40 million for his services.
Arsenal has made two offers, the last of which was over £40 million, but both have been rejected, with Liverpool manager Brendan Rodgers and owner John W Henry both saying Suarez would not be sold to a Premier League club and would stay.