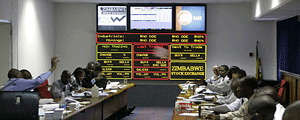 DELISTED Zimbabwe Stock Exchange (ZSE) manufacturing concern Steelnet will settle its debt after disposing assets.
Tarisai Mandizha
It has emerged that the company's liabilities continue to outstrip the value of assets valuated by an independent valuator, a recent liquidators report has shown.
According to the first statutory report of Steelnet, which is currently under liquidation, the company owed creditors in excess of $11 696 million while its assets where valued at $10 899 million. CB Richard Ellis, according to the report, was appointed to conduct valuation of all fixed assets.
Unpaid salaries, the report further read constitute more than half of the creditors.
"The company (since dollarisation has not been able to pay salaries and wages and payroll-related obligations in full due to cash flow constraints arising from low operating activities.
"The low business acticitity resulted in a significant build-up of creditors especially employee and related creditors," reads the report in part.
Zimbabwe's manufacturing sector, according to industry experts, is hamstrung by working capital constraints which has subsequently resulted in companies struggling to retool.
Capacity utilisation in the sector last year plunged to 44% from 57% in 2011 amid expectations that it will further decline this year.
The liquidator has since invited tenders from interested parties to purchase Steelnet assets as well as the company's divisions. The units will, however, be sold separately.
"Africa Steel (Pvt) Limited was the highest bidder for TPI, while Universal Ventures Incorporated (trading as Consolidated Harvard Holdings) was the highest bidder of BMA Fasteners. The highest bidders have proof of funding in the form of bank guarantees," the report stated.
Steelnet was formed in 2002 through the unbundling of the Africa Resources Group.
The company was placed under judicial management in September 2011. The provisional judicial management was confirmed in February 2012. In June this year the ZSE delisted three quoted firms which included Gulliver Consolidated Limited and lifestyle Holdings, while it suspended Apex Corporation from trading after some of the companies breached listing requirements.