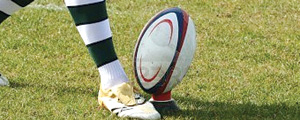 LOOSE forward Alva Senderayi was yesterday named the Zimbabwe Under-19 rugby team captain ahead of next week's Confederation of African Rugby (Car) Under-19 Championships scheduled for August 26-31 in Nelspruit, South Africa.
REPORT BY SPORTS REPORTER
Fellow utility back Lance Chikodzi was named as the team's vice-captain.
The duo together with utility back Takudzwa Kumadiro are the only survivors from last year's Young Sables team which lost 44-27 to Namibia in the final in Harare to miss out on a place at this year's Junior World Rugby Trophy in Chile.
Zimbabwe Under-19 team manager Blessing Chiutare confirmed Senderayi's appointment as the team's skipper in an interview with NewsDay Sport yesterday.
"Eighthman Alva Senderayi was chosen as the team's captain ahead of the tournament while Lance Chikodzi is his deputy. They are both very key members of the team as they were part of the squad last year and have shown great commitment to the team during our preparations," said Chiutare.
Senderayi, a former student at Falcon College in Esigodini, last season played for Sidmouth RFC in Devon, England, before returning to Zimbabwe ahead of the regional tourney.
The winner of the tournament will book the sole ticket for next year's International Rugby Board (IRB) Junior World Rugby Trophy to be hosted by Hong Kong.
The Young Sables — under new coach Nsikelelo "Sykes" Sibanda — have intensified their preparations for the tournament ahead of their departure for South Africa on Monday.
Yesterday the back-liners worked on their drills under the watchful eye of Sibanda and Cheetahs stalwart Daniel Hondo, while the forwards did the same with assistant coach Geoff Madhake.
Zimbabwe have been hit by massive withdrawals due to academic commitments, notably that of Peterhouse fullback Brandon Mandivenga who was one of the star performers at last month's Coca Cola Craven Week tournament in Polokwane.
However, last week, the team received a boost as they worked with strength and conditioning coach and scrummaging expert, South African Nico de Villiers.
Zimbabwe will face Kenya in their opening encounter on Tuesday and the winner from that match will face the victor from the other semi-final between defending champions Namibia and newly-promoted Madagascar.
Young Sables Squad: Gabriel Sipapate, Newton Tanyanyiwa, Andrew Mataga, Alva Senderayi, Mkhululi Ndlela, Takudzwa Kumadiro, Tinashe Gwisai, Malcolm Maparura, Lance Chikodzi, Lloyd Mudzova, Bastien Mendelsohn, Bright Ruzvidzo , Houghton Chachona, Michael Gazimbi, Thulani Dhliwayo, Tawanda Chipadza, Kudakwashe Nhira, Chalamagne Jaysile, Ngoni Chibuwe, Takudzwa Fransisco, Nyasha Chimedza, Charles Mungwari, Kudakwashe Nhira, Sebastian Roche. Coach: Nsikelelo Sibanda Assistant: Geoff Madhake Manager: Blessing Chiutare