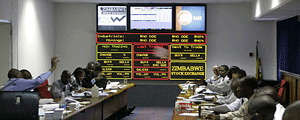 THE Securities Commission of Zimbabwe (SECZ) has ordered brokerage firms intending to sell shares held by defunct, suspended or struggling stockbroking firms to seek approval from the capital markets regulator in a bid to protect investors.
Acting Business Editor
In a statement dated July 24, SECZ said stockbrokers dealing with brokerage firms which include Renaissance Securities and Renaissance Nominees; Interfin Securities and Msasa Nominees; Kingdom Stockbrokers; ZABG Nominees; FMI Nominees; Sagit Nominees; Remo Investment Brokers and Remo Nominees and New Africa Securities, should with immediate effect, seek permission from the commission. The development comes amid reports that shares held by Renaissance continued to exchange hands.
"Notice is hereby given that disposal of shares from any nominee company related to a securities firm whose operating licences have been suspended, cancelled or are under liquidation should be done after obtaining prior approval from the Securities Commission of Zimbabwe," reads the statement in part.
"The move is being undertaken in line with the commission's objective of protecting investors and promoting integrity as enshrined in the Securities Act. All securities dealing firms are therefore immediately ordered to comply."
The directive comes nearly a year after the capital markets regulator told brokerage firms to register and deliver shares under safe custody, a directive necessitated by the need to get rid of gross irregularities showing through inconsistent records, low levels of capitalisation, insufficient insurance cover and a high incidence of scrip frauds and abuse of clients' securities.
Last November SECZ transferred all stocks held by the now defunct New Africa Securities to the Zimbabwe Stock Exchange (ZSE) and respective investors after it became apparent the brokerage firm would fail to resume operations following its suspension.
New Africa Securities and KSB, once one of the biggest brokerage firms on the ZSE based on volumes, wound up operations over the last two years.
With the ZSE underperforming since the announcements of the presidential election results, experts say with stockbrokers charging 1% commission on each side of every trade, the future of independent stockbroking firms could be bleak given the subdued performance of ZSE.
Before dollarisation, the securities dealers were charging 2,5% commission on either side of the trade.
Market players estimate that nearly 80% of the trade on the ZSE is handled by at least five brokers, which means these could have taken the biggest chunk of the commission.