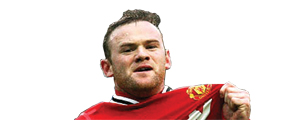 MANCHESTER — The relationship between Wayne Rooney and Manchester United, which began with the starry-eyed 18-year-old being granted a personal tour of the Carrington training ground by Sir Alex Ferguson, while a grinning Gary Neville tried to persuade him to buy one of his houses, is drifting into a deep and irretrievable state of estrangement.
Independent
Manager David Moyes must now decide whether to force the striker to play against his will and face the music from fans in Rio Ferdinand's testimonial at Old Trafford on Friday.
A shoulder injury, which United yesterday revealed has prevented the 27-year-old from travelling to play in last night's pre-season friendly in Stockholm, is not understood to be serious, and is expected to keep Rooney out of training for only three or four days.
The result of a collision during a behind-closed-doors training match against Real Betis, it does appear to be a convenient way for the striker to keep himself out of the picture, following United's rejection on Sunday of a second Chelsea bid of £25m plus add-ons. Rooney asked to miss the Sweden trip.
An impression is also being given that Rooney's relationship with some of the senior players in the United dressing room — Ferdinand, Ryan Giggs and Patrice Evra — is becoming strained, amid those players' concerns that their pleas with him to stay at United have been ignored.
The sense of a dressing-room rift serves Rooney well in his attempts to prove that his position at the club is untenable. He can shape his own position as one in which he has fans and team-mates against him, with Ferguson, now an ogre in the player's mind, as a spectre in the background. All good grounds to leave.
Rooney, who has not started a game for United since the 1-1 draw at Arsenal on April 28, will probably try to avoid a potentially unpleasant encounter with supporters when Seville arrive for Ferdinand's testimonial and in Sunday's Community Shield match against Wigan Athletic at Wembley.
The shoulder injury, which follows the hamstring problem which ended his pre-season tour within hours of United landing in Thailand, may again help.
Moyes must decide whether to maintain the hard line United have adopted since Rooney first started agitating through the media for a transfer, on July 17, and insist he plays.
If he concludes that Rooney's presence is destabilising and drops him, he will have played into the forward's hands, taking him a step closer to the departure he now seeks. It is a fairly desperate, invidious position for Moyes, who has lost Rooney's goodwill at a time when he does not appear to have a replacement.
Ironically, senior United executives were pondering earlier this summer how they could help soften the fans' perception of Rooney in order to ensure he got the kind of welcome against Seville which might encourage him to feel that Old Trafford is his home.
A third, £40m bid from Chelsea is one United may now not be able to justify refusing, though they could refuse to sell until Jose Mourinho's side have visited Old Trafford on 26 August.
By not playing Rooney between now and then, they could also limit his capacity to hit the ground running at Stamford Bridge.
That would dismay the England manager, Roy Hodgson, who has two critical World Cup qualifiers, against Moldova on September 6 and in Ukraine four days later.