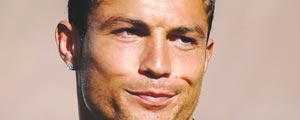 MADRID — Ronaldo is leaning towards signing a long-term deal at Real Madrid, provided that he is given assurances about his No 1 status at the club with the impending world-record arrival of Gareth Bale.
Daily Mail
Ronaldo wants to remain in Spain, despite being linked with moves to Manchester United and Paris Saint-Germain, but he is insisting on being paid double Bale's salary to underline his place as the club's main galactico.
He will also expect the club to campaign more vigorously for him in future World Player of the Year awards and he also wants a cut of commercial opportunities he is opening up in Asia and America.
Having scored a staggering 175 goals in 167 games for Real, the Portuguese superstar wants a sharp hike in his pay, although his contract has two years left to run.
Ronaldo earns around £160 000 a week — the same 'starter' wage that Bale will be on — but the former United forward thinks he deserves about £320 000 a week given his achievements in the Spanish capital.
The fact that Ronaldo has so far failed to agree a new contract has led to speculation about his future, with Real's former president Ramon Calderon claiming last week the club will sign Bale because they fear losing Ronaldo.
Meanwhile, Chelsea are preparing an "imminent" second bid of around £40 million for Manchester United's Wayne Rooney — and the England striker will leap at the chance to become Jose Mourinho's No 1 striker at Stamford Bridge.