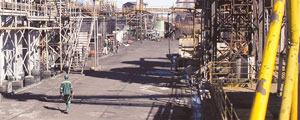 ZIMBABWE Stock Exchange-listed mining concern RioZim Limited's loss  for the six months to June has narrowed to $2,3 million from $4,9 million recorded during the same comparative period last year due to a strong growth in revenue and a cut in finance cost, the company's financials have shown.
Business Reporter
Group revenue was up 83% to $56 million over the comparative period last year buoyed by growth in business at Empress Nickel Refinery (ENR).
ENR, according to a statement accompanying the financials, recorded a 204% growth in revenue due to the change in business model from toll-refining to matte purchase and sale of own production.
The unit achieved a turnover of $43,5 million of which $5,7 million was from sale of reverts.
The group finance cost decreased by 30% to $4,4 million from $6,3 million in 2012 after debt restructuring.
Despite achieving an operating profit of $2,2 million, the group's performance was weighed down by interest cost and a loss incurred by its diamond mining unit, Murowa.
Interest cost in the first half amounted to $4,4 million compared to $6,3 million in the prior year. In June 2013, Rio Tinto announced plans to sell its stake in Murowa, but the decision was put on hold after the anchor shareholder struggled to find buyers at the right price.
"Whilst Murowa contributed a loss to the group in the first half, it is forecast that the associate will contribute positive results by end of the current financial year," said group chairperson Elisha Mushayakarara.
During the period under review, the group's mining operation recorded a 4,2% increase in output compared with the same period last year despite falling prices of the bullion.
The price of gold fell from an average of $1 651 per ounce in June 2012 to $1 196 in June 2013.
Mushayakarara said the operating results of Renco were adversely affected by disruptions in January and February 2013 and as a result gold output was lower than expected.
"The drop in gold prices is a major concern. Cost reduction measures continue to be successfully implemented," Mushayakarara said.
He said the group has plans to install a 20-tonne per day oxygen plant which seeks to boost output at ENR are at an advanced stage.
"The installation of the new plant is expected to result in monthly savings of approximately $300 000 as well as the elimination of the plant stoppages that were occurring when the liquid oxygen supplier was struggling to cope with demand," Mushayakarara said.