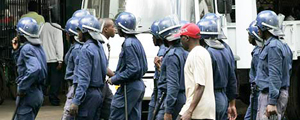 POLICE are on the hunt for two armed robbers who got away with two firearms and $140 000 in cash from a Harare couple on Wednesday night. Report by Staff Reporter
Chief police spokesperson Senior Assistant Commissioner Charity Charamba told a Press conference on Thursday that two armed robbers approached a couple in the Avenues area who were watching television and ordered them to lie down.
Charamba said the robbers demanded money from the two and the pair indicated that all the money was being kept in Masasa.
"The robbers and the complainants then drove to the accountant's residence where they abducted the accountant and drove back to the company premises in Masasa. At the company premises, one of the armed robbers and the accountant entered the offices whilst the other armed robber remained outside guarding the other complainants," said Charamba.
"Whilst inside the office, the armed robber instructed the accountant to open the company safe and he stole $55 000."
Charamba said the armed robbers and the complainants drove back to the accountant's residence where they searched the accountant's house.
"They stole $100, traveller's cheques worth R5 000, an Arminius. 38 special revolver, serial numbers 561053, and a Smith and Wesson 38 revolver serial number 707260, which were inside a cupboard. The armed robbers locked all the complainants in a bathroom at the accountant's house and drove away in the complainant's car," said Charamba.