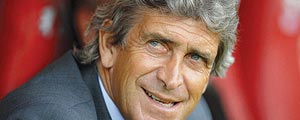 MANCHESTER — Manchester City manager Manuel Pellegrini was delighted the Blues met all his pre-match expectations against Newcastle on Monday night in the English football season opener.
Daily Mail
City opened their campaign with a 4-0 win over the 10-man Magpies, who had Steven Taylor sent off for striking Sergio Aguero on the head at the end of the first-half.
The result sent City to the top of the Premier League after the first round of fixtures, although Pellegrini was more concerned in the manner of his side's victory rather than the magnitude of it.
"The most important thing always is to win, but afterwards, it is the way we did it," he said. "It was a very good start. I was very confident the team would play well because we worked very hard during pre-season.
"We are trying another style of football and maybe we can continue improving every week but for the first match we did it very well." David Silva opened the scoring with a header after just six minutes.
Sergio Aguero added another before the break, then Yaya Toure and Samir Nasri wrapped up an easy win in the second-half.
As starts to the season go, it would have been perfect, but for the groin injury that forced skipper Vincent Kompany off, which meant Javi Garcia filling a central defensive slot alongside Joleon Lescott.
"I can't tell you exactly what happened with him," said Pellegrini. "Tomorrow (today) the doctor will say, but I think it is a serious injury and maybe (he will be out) for one or two weeks."
There was praise for two of his new signings; Jesus Nevas and Fernandinho, who both impressed, whilst Pellegrini was also happy with the contribution of Edin Dzeko.
The Bosnian has failed to recapture his free-scoring form from the Bundesliga since his move to England two-and-a-half years ago and spurned a succession of good chances against Newcastle.
However, his all-round performance was excellent and he set up Aguero with a brilliant back-heel.
"I have a lot of trust in Edin Dzeko," said Pellegrini. "It was a pity he didn't score because he had a lot of chances, but he played very well.
"We all know he is a very good player with the ball, but today he also played without the ball. He worked a lot on trying to recover the ball in attack. I am sure we are going to see this season the Edin Dzeko that Manchester City bought two ago from Wolfsburg.
"I spoke with him the first day I arrived here and I am sure we will see the Dzeko all of you are waiting for."
For Newcastle it was the worst possible start to the season, with influential midfielder Yohan Cabaye now the subject of interest from Arsenal and Steven Taylor facing a three-match ban after an inexplicable loss of temper.
"The sending off was completely out of character for Steven and he has apologised," said Magpies manager Alan Pardew. "I can't really say anymore except that he is an honest player."