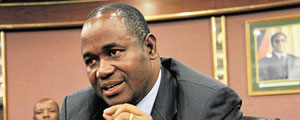 THE banking sector has reportedly been hit by panic withdrawals.
REPORT BY BERNARD MPOFU/VICTORIA MTOMBA
Sources said anxiety had gripped the public following uncertainty surrounding the outcome of the just-ended general elections.
"There has been a slight liquidity crunch because of capital flight from the formal banks. People were taking money out of the market because of election jitters," said a senior banking executive who declined to be named.
"This should be corrected or resolved within the next two weeks as people begin to have confidence in the country and economy."
At least $700 million was reported to have been withdrawn from banks during the countdown to the elections.
President Robert Mugabe and Zanu PF won last Wednesday's election in a poll that has since been described by his arch-rival MDC-T leader Morgan Tsvangirai as a farce.
In the run-up to the polls, Mugabe dangled the indigenisation and empowerment policy and the re-introduction of local currency as an election trump cards.
Outgoing Justice minister and Zanu PF deputy legal secretary Patrick Chinamasa at the weekend said the party, once in government, would not immediately re-introduce the local currency. He said the multi-currency regime would remain in force for the next 10 years to stabilise the economy.
The Zimbabwe dollar was rendered worthless in 2009 after the introduction of the multiple-currency regime which was preceded by an unprecedented economic meltdown and runaway inflation.
Bankers Association of Zimbabwe chief executive officer Sijabuliso Biyam declined to comment on the issue.
"I will verify that after I have talked to my colleagues. But I will give you a comment tomorrow (yesterday) after discussions with colleagues," he said. Efforts to get a comment from him yesterday were in vain as his phone continued to ring unanswered.
Reserve Bank of Zimbabwe governor Gideon Gono did not respond to questions sent to him yesterday. Last month Gono, however, said the central bank had discussions with Mugabe on the idea of bringing back the local currency once key economic sectors start kicking.
"Additionally, the local currency, according to the wishes of His Excellency, would be required to circulate alongside the basket of currencies which are currently legal tender in Zimbabwe and the public will be free to pick and use a currency of their choice for transaction purposes," he said then.
Players in the banking sector told NewsDay the withdrawals had begun just before last Wednesday's elections.
Most banks reported in their financial statements this year that they would adopt a cautious lending approach due to an increase in non-performing loans as well as an unfavourable economic environment triggered by uncertainty.