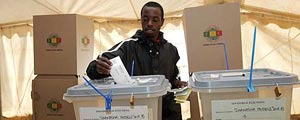 ZIMBABWEANS from all walks of life came out yesterday to vote in the presidential, parliamentary and council elections. They were voting in what will be a watershed poll. The presidential election pitted President Robert Mugabe of Zanu PF, Morgan Tsvangirai of the MDC-T, Welshman Ncube of the MDC and Dumiso Dabengwa of Zapu NewsDay Editorial
There has been a lot of tension leading up to the polls with fears that the elections would be riddled with intimidation and violence reminiscent of the 2008 presidential runoff poll. Fortunately, this has not been the case with Zimbabweans countrywide voting peacefully despite having to wait in very long queues at some polling stations.
This is commendable and shows that Zimbabweans have not only matured, but are willing not to have violence mar their right to decide who governs them over the next five years.
Credit should also go to the principals of the inclusive government, Mugabe, Tsvangirai and Ncube, for their sustained clarion call for peace before, during and after the elections. The calls for peace and tolerance by the three political leaders have played a large role in ensuring the peace that the country is enjoying during this election period.
We hope that the party leaders will maintain this tone even when the results are announced to calm frayed tempers which will undoubtedly arise as a result of the elections.
However, the conduct of the Zimbabwe Electoral Commission in running this election will be vital to complement the calls for peace. Their conduct thus far has been appalling, from the bungled special vote, the failure to register thousands of voters to the late delivery of the voters' roll to the contesting parties. Such has been the incompetence that Tsvangirai has called for the resignation of Zec officials.
It is also incumbent on the commission to announce results within the mandated five days to avoid speculation that will spawn unnecessary uncertainty, chaos and unrest that characterised the announcement of the presidential poll five years ago.
The observers of this election from the African Union and the Southern African Development Community also have a duty to give a verdict that will complement the peaceful efforts of Zimbabweans and avoid the subversion of the people's will.
Should there be irregularities or outright fraud, they should say so without fear or favour to ensure that the Zimbabweans' conduct is rewarded by results that reflect their will.
The people have voted peacefully. A free and credible election reflecting their will is the least they deserve!