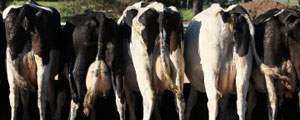 LONDON — The New Zealand dollar fell to a one-year low against the US dollar on Monday after New Zealand's major dairy exporter, Fonterra, said it had found bacteria in some of its products that could cause botulism.
Report by Reuters
China halted the import of some dairy products from New Zealand and Australia in response, highlighting the threat to New Zealand's $9 billion annual dairy trade.
The New Zealand dollar tumbled as low as $0,7670 in thin Asian trade, its weakest since June 2012. It regained some of the lost ground in European trade and was last down 0,3% at $0,7805.
Dairy produce accounts for about a quarter of New Zealand's export earnings and any development that could hurt its exports typically causes the currency to fall.
The currency would be vulnerable if the US dollar, which fell after Friday's below-forecast US jobs data, turns higher again. The next important chart support was at the June 1, 2012 low, $0,7456.
Analysts at Westpac said a sustained break below $0,7685 would see the New Zealand dollar slide towards $0,7200.
"There was an exuberance in the market relative to the significance of the milk scandal, but other factors may drive the New Zealand dollar lower in the medium term," said Hans Redeker, head of global foreign exchange strategy at Morgan Stanley.
"New Zealand has substantial foreign liabilities so that country is particularly vulnerable if risk appetite turns."
The Australian dollar held steady at $0,8902, having earlier hit a three-year low of $0,8848 after weak retail sales data bolstered expectations Australia's central bank would cut interest rates on Tuesday.
The US dollar fell 0,6 percent to 98,36 yen as it continued to struggle in the wake of Friday's jobs figures, which cast some doubt on whether the Federal Reserve would start reducing its bond purchases in September.
Morgan Stanley's Redeker said the dollar could extend falls in the near term, targeting 97,50 yen and then 94 yen. But he expected it to recover after that because he remained "very upbeat" on the prospects for the US economy.
The euro was up 0,1% at $1,3296. A break above $1,33 could see it rise towards last week's peak of $1,3345.