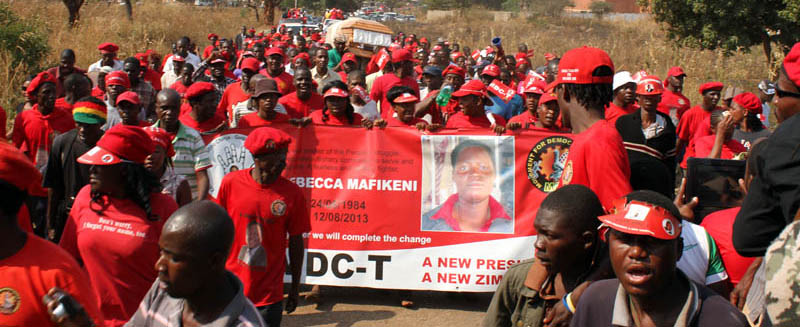 MDC-T leader Prime Minister Morgan Tsvangirai yesterday said Zanu PF, which claimed to have won the just-ended elections, was already facing a legitimacy crisis and was courting him in a bid to legitimise their victory.
REPORT BY DUMISANI SIBANDA
Tsvangirai was addressing about 2 000 mourners at Warren Hills Cemetery in Harare during the burial of an MDC-T activist, Rebecca Mafikeni, who died while in custody on Monday following her arrest two years ago over the alleged murder of Police Inspector Petros Mutedza.
Watch Rebecca Mafikeni's funeral below:
Tsvangirai said the whole country had been shocked by the results of the harmonised polls which his party was disputing.
"We are mourning Rebecca here, but we are all in national mourning because of someone who says I have won fairly, an election which represents the biggest fraud this country has ever seen and even the whole world has ever seen," he said amid rapturous applause. "It doesn't matter going to the courts. It doesn't matter the outcome of the courts and we know the outcome. (President Robert) Mugabe and Zanu PF know they stole this election. I went to my rural home and people were asking: Who voted for Zanu PF?" Tsvangirai said.
The MDC-T leader, who has gone to court to challenge the outcome of the presidential polls which he lost to Mugabe, said the "winners" of the elections were faced with a crisis of legitimacy.
"Even after stealing, they have nowhere to start and that is why they are asking: 'Where is Tsvangirai so that we can talk?' Talk about what? First of all, sort out your legitimacy question and the only legitimate process that I think can assist us as children of Zimbabwe is to go back to an election which is free and fair," he said to wild cheers.
"That is what is going to make the spirits of this child whom we are burying today and others lying here, rest. Some of us will not rest until their spirits rest. The problem facing this old man (Mugabe) is that he just wants power only. Power without responsibility is useless. I ask the youth to take heed of sentiments by their leader Solomon Madzore. Let's not act in emotion. Let us act in conviction. It is conviction which will make our struggle for transformation and change be realised."
Earlier, in his graveside eulogy, Madzore, who spent two years in remand prison facing the same allegations as Mafikeni, had warned that "our calmness should not be viewed as passivity", but urged his colleagues in the party to remain "peaceful".
Madzore's remarks come in the wake of statements by Mugabe on Heroes' Day that the MDC-T, which is disputing the recent elections, can "go and hang".
Tsvangirai said: "We want to make sure the change we are all fighting for is achieved in our lifetime. There is nowhere they (Zanu PF) are going to. If there is God, which I know there is, and ancestral spirits for those who believe in them, the Holy Word will see us through this struggle as children of Zimbabwe."
Mafikeni died of meningitis on Monday at Parirenyatwa Hospital in Harare.
Several high-ranking MDC-T officials, including the national chairman Lovemore Moyo, secretary-general Tendai Biti and women's assembly chairperson Theresa Makone, were at the funeral.