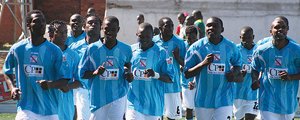 MONOMOTAPA, the 2008 Premier Soccer League champions, go into the BancABC Sup8r Cup semi-final against FC Platinum at Barbourfields Stadium tomorrow wearing the underdog tag, but will be hoping to spring a surprise.
REPORT BY FORTUNE MBELE
The former league champions have had a bad spell in the league this year and troop into Bulawayo tomorrow on the back of three defeats in the league, first to Harare City 0-1, 2-1 to Caps and the last an embarrassing 0-3 home defeat to fellow strugglers Hwange.
Monomotapa, coached by Biggie Zuze, are fighting relegation, sitting on position 12 on the log table with 21 points, just seven points from anchors Motor Action. The last team they beat in the league were the troubled Mighty Bulls 2-0 on July 7 in the league, the team that they also bundled out of the Sup8r Cup with a 1-0 win on June 30 at Gibbo Stadium in Chiredzi.
However, Zuze is confident they have the better of FC Platinum tomorrow.
"In all the matches that we have been playing, we have been coming in as underdogs, but we have been playing very well.
"Unfortunately, the results have not been coming. We have been preparing very well for FC Platinum and we are very happy that all our players who had been injured have recovered.
"Morale is high in camp and the boys know what is at stake and they know the importance of the game. The best for us is to get into the final. We have been struggling financially and that will definitely cushion us. We are not taking anything away from FC Platinum. They are a very good side," Zuze said.
Interestingly, when Platinum came into the Premiership in 2011, they beat Monomotapa at home (3-0) in Zvishavane and away (2-0) in Harare.
Monoz beat Platinum 2-0 in Harare, hammered them 3-0 at Mandava Stadium before booting them out of the country's richest football tournament, the Mbada Diamonds in a 1-0 win in the semi-final at Sakubva in Mutare.
"But that is history because most of the guys that we had are not around. Now we have youngsters that have been psyched up for that game and we are hoping to do well on Saturday (tomorrow)," Zuze said.
One man that may come back to haunt FC Platinum tomorrow is none other than Ronald Chitiyo together with the duo of Hillary Mugoniwa and Kudakwashe Musharu, who have remained loyal to Monomotapa.
Monomotapa also have Allan Tavariswa, grabbed from Dynamos, and Lawrence Mhlanga from Bantu Rovers and youngsters that include Nelson Meson, Ishmael Lawe and Last Sithole, among others.
FC Platinum had the feel of Barbourfields, where they trained on Wednesday before returning to base yesterday and will be back in Bulawayo today for the match.
The Platinum miners' attack will be led by returning Warriors Charles Sibanda, Donald Ngoma and Nelson Maziwisa.
Defending league champions Dynamos clash with Shabanie Mine in another semi-final on Sunday at BF, with both matches starting at 2pm and will be screened on pay-per-view channel SuperSport.