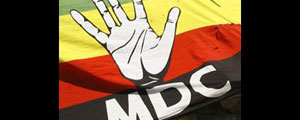 A SUSPECTED MDC –T supporter was yesterday sentenced to six months in prison when he appeared before Harare magistrate Anita Tshuma on allegations of engaging in disorderly conduct at a polling station in Mbare on Wednesday in contravention of the Electoral Act.
REPORT BY PHILLIP CHIDAVAENZI
John Munyikwa (39) of Domboramwari in Epworth, who pleaded guilty to the offence, will, however, serve an effective three months after three months were suspended on condition of good behaviour.
The court heard that Munyikwa's friend, who is still at large, had shouted "bhora musango" (protest vote) and he (Munyikwa) responded "bhora mugedhi" within the vicinity of a polling station.
Asked about the meaning of "bhora musango" by magistrate Tshuma, Munyikwa said it meant he had voted for the MDC–T and admitted that such conduct was unlawful.
Prosecutor Tungamirai Chakurira told the court that "a short and sharp custodial sentence" would meet the justice of the case because Munyikwa's statement had the potential to breed violence.
"The accused committed an offence that has the potential to cause disaster. The timing was unfortunate because it is everyone's desire that peace continues to prevail in the country," Chakurira said. "Such reckless conduct and utterances should be avoided at a time of elections because they have a potential to cause public disorder and violence. The electoral period should expire while the accused is in custody."
The court heard that on July 31, Munyikwa went to Shawasha polling station in Mbare to cast his vote.
When he was done, he moved for a distance about 30 metres away from the polling station and met his alleged accomplice Kingstone Hurudza, who is still at large.
Hurudza then kicked an empty cardboard box to the accused shouting: "Bhora musango."
Munyikwa kicked the cardbox back to Hurudza shouting: "Bhora mugedhi."