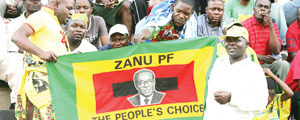 THE Zanu PF Mashonaland West provincial leadership is reportedly locked in a bitter tussle over the choice of a suitable candidate for the Provincial Council chairperson's post.
NUNURAI JENA
Sources who attended a Zanu PF provincial co-ordinating committee meeting in Chinhoyi over the weekend said factionalism had reared its ugly head again, with a faction aligned to politburo member Ignatius Chombo pushing for his younger brother Nimrod Chiminya.
The other faction is reportedly rallying behind Makonde councillor and women's league favourite Chipo Chakweza.
According to the new Constitution, the new Provincial Council — whose mandate is to spearhead developmental projects at local level — is expected to elect its chairperson during its first meeting.
Zanu PF has eight members, while the MDC-T will provide two members in the 10-member Provincial Council, with party representation based on proportional representation.
As the majority, Zanu PF is expected to provide the chairperson. Contacted for comment yesterday, Chakweza professed ignorance over the matter.
"I'm hearing it from you for the first time. I was never involved is meetings to come up with the chairperson. I'm far from it," Chakweza said.
Zanu PF provincial chairman John Mafa also said he was unaware of the issue.
"I don't know of who will be chairperson as the leadership of my party has not communicated that to me," Mafa said.