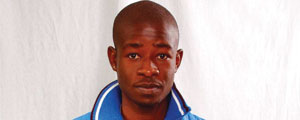 AFTER eight years of causing waves with several hit singles, urban groover Taurai Mandebvu has taken his music career a step further by dropping his debut 10-track album titled The Collection.
Winstone Antonio
From the time that Mandebvu sprang onto the music scene back in 2005, he had never released an album, but the young man was popularly known as a singles' hitmaker who released various singles that caused waves across the country.
The Collection is a mixture of both new and old tracks like Mashoko, I like what I see, Wepamoyo, Better Man, among others and it features some of the renowned artistes in the urban groove genre who include Exque, Yoz and Leornard Mapfumo.
The Better Man hit-maker said he had responded to his legion of fans' request for him to release the album.
"I always want to make sure that I deliver for my fans. This album was requested by my fans and I have done my best to respond to their wishes, hence dropping this one for them," he said.
Mandebvu said he hoped his debut album would further propel him to dizzy heights.
"From Better Man, things have been happening for me and I am glad that I am now being recognised as a force to reckon with in the entertainment sector. The nation is accepting my music and with the release of this album I am now eyeing the international music scene," he said.
The artiste said although the corporate world was showing interest in the local music, more needs to be done to boost the local music industry.
Mandebvu's passion for music was nurtured by his experience at nursery school where he used to sing during assembly. He started professional music as one of Roki's dancers in 2005. Upon discovering his talent during the stint with Roki, he released his first single called Chido Changu.
From there he had several hot singles that include, Hapana, which featured ace performer Leonard Mapfumo and the accompanying video to the song did well on local television.
However, it was the release of Better Man in 2011 that propelled the former St Paul Musami mission pupil to stardom.
Despite having a fair share of controversy, which saw him attend court sessions, Mandebvu has managed to create his own name in the industry. At present he has curtain-raised for international artistes like Lil Kim, Ciara, Sean Paul and Akon among others.