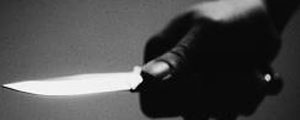 A 26-YEAR-OLD Macheke man allegedly fatally stabbed his girlfriend in the throat and forced her to drink a tobacco pesticide in an attempt to fake suicide.
REPORT BY CHARLES LAITON
The woman later died as a result of the stab wounds.
Aleck Siyanga is alleged to have stabbed Moreblessing Dhuwati twice in the neck after accusing her of infidelity.
The incident allegedly occurred behind Buffalo Inn on March 31 this year at around 7pm.
According to State papers, all hell broke loose when Siyanga asked the late Dhuwati as to who had answered his call when he phoned her while she was in Harare.
It is alleged a heated argument ensued prompting Siyanga to stab his girlfriend once on the neck.
At that juncture, Dhuwati is said to have tried to wrestle the knife from Siyanga, but she was overpowered and this time stabbed in the throat, resulting in the knife protruding to the back of her neck.
It is alleged at that point, Siyanga heard voices of people coming towards their direction and he ran away from the scene, leaving Dhuwati groaning in pain.
After spending a few minutes at his residence, Siyanga is alleged to have had a change of heart and decided to return to where he had left his seriously injured girlfriend.
It is alleged Siyanga took with him a 500ml bottle filled with tobacco pesticide and when he got to Dhuwati, he tried to remove the knife from her throat, but only managed to pull out the handle leaving the blade lodged inside.
After realising he could not succeed to completely remove the blade, Siyanga allegedly tried to force Dhuwati to drink the chemical, but she refused to swallow the liquid. He then fled from the scene, but was later arrested by police following a tip-off.
Siyanga last week appeared before High Court judge Justice Hlekani Mwayera for bail application and his appeal was thrown out.
Prosecutor Public Mpofu submitted that Siyanga was not a suitable candidate for bail considering the manner in which he had allegedly ended his girlfriend's life.
Mpofu said the circumstances of the murder as outlined by the State were aggravatory and as such would induce Siyanga to flee the jurisdiction of the courts.