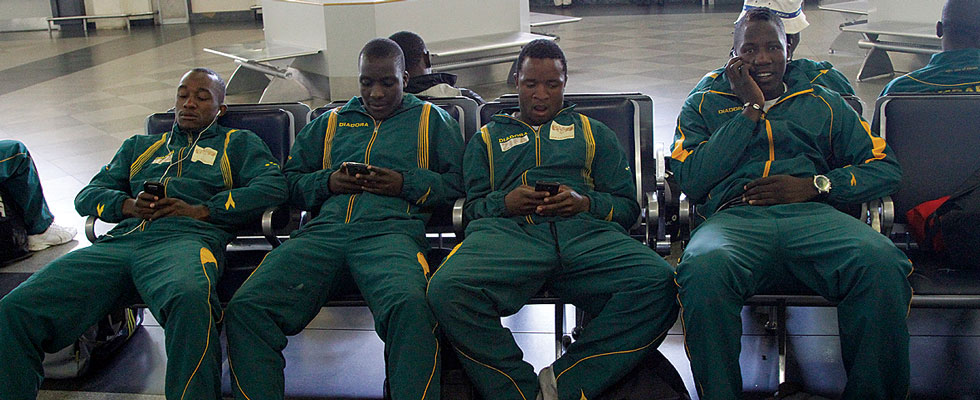 YET another day, yet another Battle of the Zambezi.
REPORT BY HENRY MHARA
It's Part Four of the football battle between Zimbabwe and Zambia as the two nations lock horns at the Levy Mwanawasa Stadium in the final qualifier, second leg of the African Nations Championships (Chan) this afternoon.
Kickoff is 3pm.
The first battle ended 2-0 in favour of Zambia in an international friendly and so did the second, the Cosafa Castle Cup final at the same venue on July 20.
Then last week, the two teams drew 0-0 in the first leg at Rufaro to leave this afternoon's match evenly poised.
Zambia need a win to go through while a scoring draw for the Warriors will see Zimbabwe secure a third consecutive slot in the finals to be staged in South Africa next January.
As the squad of 20 players and officials, looking very relaxed and in high spirits, left Harare International Airport yesterday afternoon aboard a chartered flight paid for by Zifa president Cuthbert Dube, there was an aura of confidence everywhere.
The team arrived in Ndola at 1500hrs yesterday. They had a late lunch at the Michelangelo Hotel before a training session at the match venue at 1715hrs.
Coach Ian Gorowa, speaking before departure, said his team had a great opportunity while captain Masimba Mambare predicted that the team would seal a win in this match.
"It's going to be a tough game not only for us, but for Zambia as well. We have prepared well and the boys are ready to fight," said Gorowa yesterday.
Gorowa said despite getting a draw at home, the match was delicately balanced and the team scoring first would probably make it.
"Obviously if you are playing away from home you want to score first so that you unsettle the opponent and we will try to do that. If the game goes to penalties, we also did our part so we are ready for anything. We did not leave anything for granted, we did thorough preparations," said Gorowa.
Mambare is expected to play despite limping off a training session on Wednesday with a knee problem.
The Highlanders midfielder looked uncomfortable in contact situations at Thursday's preparatory match against Dynamos at Gwanzura Stadium which the Warriors won 4-1.
"I was feeling some pain but I'm better today and I should be ok for the match tomorrow (today)," Mambare said on his injury.
Turning to the decisive match, the captain said: "For the whole week the emphasis of our preparations was on scoring goals. That was the missing aspect from our previous match. We worked on creating opportunities to score goals and I think we mastered what we were told and if we can execute that, then we are definitely going to win.
"Zambia will naturally try to attack us and leave space behind so we will try to exploit those gaps. From what I saw at training, the strategy is to score first and the rest we will see.
"They have quality players, but we also have a very talented side capable of beating other teams especially Zambia. I think we have a very good chance."
Zambia have never lost a game at the ultra-modern 42 000-seater stadium, but Mambare is not worried about that fact.
"They are going to lose a match at that stadium at some point and it could be tomorrow (today) against us. Matches are played on the field of play and not in record books so records will count for nothing.
"We just have to go there and do our job. That calls for a right attitude and we are not particularly worried about their past achievements," added Mambare.
Gorowa said he was going to ring some changes to the team that played at home.
Bruce Kangwa is expected to make his Warriors debut, starting at the left-back position ahead of Blessing Chimwamuchere, who had a nightmarish game in the first leg.
But it is the strike force department that Gorowa is mostly worried about.
Regular striker Tendai Ndoro was not part of the team that left yesterday as he is away on trials in South Africa, and his replacement Donald Ngoma, who looks set to partner Nelson Maziwisa upfront, is now carrying the hopes of the nation.
"Donald showed quite a lot in the few days he trained with the team and I like the way he plays, so we will probably try and see how best we can utilise him," said Gorowa.
Probable team: T Dube, E Chipeta, P Jaure, H Zvirekwi, B Kangwa, D Chafa, P Moyo, M Mambare, A Sadiki, N Maziwisa, D Ngoma