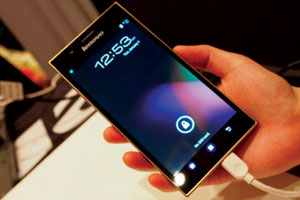 HONG KONG — Lenovo Group Ltd, the world's largest PC maker, booked a forecast-beating 23% jump in April-June net profit to deliver its second-best quarterly earnings, as its push into smartphones and tablets begins to bear fruit.
Reuters
With the traditional PC sector on the decline, Lenovo has accelerated its foray into mobile devices, rapidly rising to become the No. 2 smartphone vendor in China, the world's largest smartphone market. It is also expanding into other emerging economies and has said it will start selling phones in the United States, perhaps this year.
Lenovo, which toppled Hewlett-Packard Co in PC rankings this year, posted a net profit of $174 million in the quarter ended June, beating a consensus estimate of $166,0 million.
It overtook ZTE Corp as the world's No. 4 smartphone maker in April-June with market share of 4,7%, behind Samsung Electronics Co Ltd, Apple Inc and LG Electronics Inc, according to research firm IDC.
As sales of its LePhones and tablet PCs gain traction, margins are expected to improve and revenue from its mobile Internet and digital home (MIDH) unit is set to rise to 25% in its fiscal year ended March 2015 from 16% in the year ended March 2013, analysts have said.
Overall quarterly revenue for the ThinkPad maker rose 9,7% to $8,8 billion.
Its gross profit margin for the quarter was up 0,5% points from 13,1% a year earlier, it said in a statement on the Hong Kong stock exchange.
Lenovo quickly gained market share in PCs on the back of a string of acquisitions and speculation is rife that it will do the same to expand further in smartphones and tablets. It has been mentioned as a possible partner for HTC Corp and as potentially interested in BlackBerry Ltd, which is exploring a sale of itself.