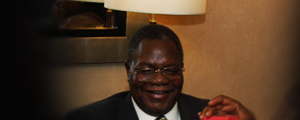 ZANU PF politburo member and former cabinet minister Kumbirai Kangai (75) died yesterday morning.
STAFF REPORTER
Party spokesman Rugare Gumbo said Kangai died in Harare.
Kangai, who had just been elected senator for Buhera, collapsed at his home and was rushed to a private clinic in the capital, where attempts to resuscitate him failed.
Kangai was Zimbabwe's first Labour minister and was the legislator for Buhera South from 1980 to 2008.
He was also Zanu PF secretary for external affairs.
Burial arrangements were yet to be made, although there were indications that there is going to be a request going to be made to the Zanu PF politburo that he be declared a national hero.